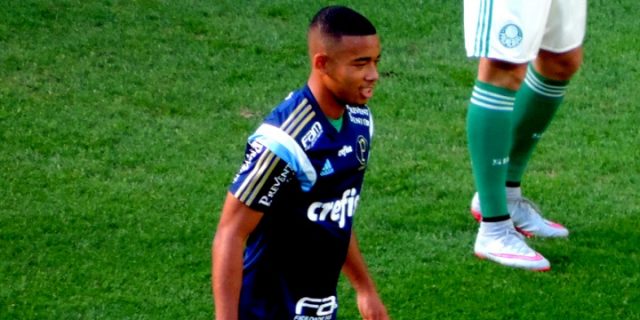 Manchester United are set to bid €35m for Palmeiras striker Gabriel Jesus, according to Brazilian newspaper Estadao.
The report claims the Brazilian club has already accepted a €32m offer from United's local rivals Manchester City, but the Red Devils are set to join the bidding in the coming days with an offer of €35m, including performance-related add-ons.
Estadao goes on to suggest that Manchester City are currently the favourites for Jesus' signature as the player is excited by the prospect of playing under Pep Guardiola.
The 19-year-old, who reportedly wants to stay at Palmeiras until the end of the year, has scored 14 goals in 18 appearances for Palmeiras so far this season and has been dubbed as the 'next Neymar' in his native Brazil.
The talented teenager is pretty versatile. Hecan play on either wing and up front. If he's even half as talented as Neymar, then United should make an effort to sign him.
It seems like Palmeiras are ready to cash in on their prized asset this summer. Jesus been linked with a move to almost every top European club in this transfer window, but right now it looks like it'll be a battle between the Manchester rivals.