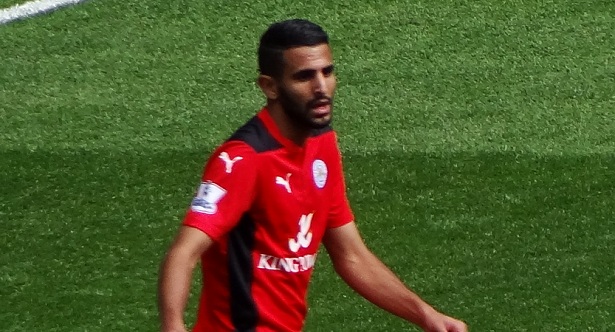 According to the Guardian, Riyad Mahrez has rejected Leicester City's improved contract offer and is seeking a new challenge.
Mahrez, who won PFA Player of the Year and helped Leicester City to their first Premier League championship with 17 goals and 11 assists last season, has three years left on his £35,000 a week contract he signed last August. Until today, Claudio Ranieri was confident of keeping his star man and believed Mahrez would sign an extension that would pay him £80,000 a week.
"He remains with us. He's not the kind of man who will say: 'Coach I want to leave.' He is happy here," said Ranieri.
The news is a blow to Leicester City who've suffered a tumultuous week with N'Golo Kanté close to sealing a £29.2 million move to Chelsea.
A number of big clubs have been linked to Mahrez in the past including Barcelona, Manchester United, and Arsenal. As of yet, no one has stepped up as favorites to secure his signature.
While signing for Barcelona would certainly be a prestigious moment for Mahrez, it's questionable how much playing time he would get. Luis Suarez, Leo Messi, and Neymar would be ahead of him in the pecking order and all three can play through the middle or down either flank. Manchester United can't offer Champions League football, which he could get with Leicester, and they may have taken their selves out of the race by signing Henrikh Mkhitaryan.
A move to Arsenal makes the most sense. They can offer the Champions League on a consistent basis, a large contract, and world-class teammates who would get the best out of Mahrez.
Arsenal are interested in a goal scoring wide player with their striker options in the transfer market seemingly limited. Mahrez would immediately slot into the starting eleven opposite of Alexis Sanchez. With Alexis on one side, and Mahrez on the other, Arsenal would present a goal scoring and creative threat from either wing, with Mesut Özil pulling the strings behind them, and Olivier Giroud playing off his speedy teammates.
While Arsenal have not made a bid for the player, they are known admirers. This past February, ESPN FC claimed they'd learned from sources that Arsenal would enter the race for Mahrez this summer.
Mahrez does not represent the striker that Arsenal need but he is an excellent alternative and would be a brilliant piece of business. He would come at a cheaper price compared to the £80 million that was recently quoted for Gonzalo Higuaín. Mahrez would also provide a goal scoring threat that Arsenal lack, and additional creativity, alleviating some pressure from Özil and making Arsenal more dynamic in terms of where their goals can come from.
The Gunners struggled to score without Özil, and often depended too much on the German's creativity. A fit again Santi Cazorla and Jack Wilshere will make a difference, but Mahrez would create chances from the flanks, something that neither player really provides.
Mahrez's situation should be sorted out in the next month and it would be surprising to see Arsenal not involved in discussions, at the very least.