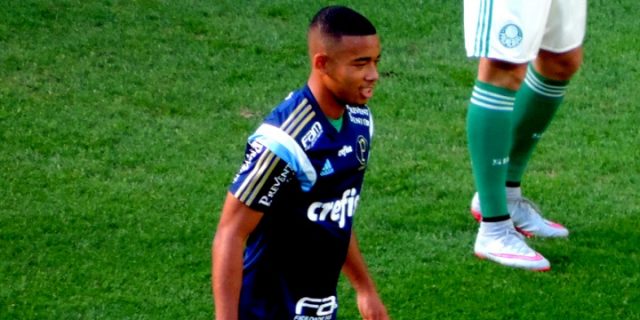 According to Lance, a Brazil sports newspaper, Real Madrid would need to pay 24 million euros for Gabriel Jesus. They will fight with FC Barcelona, PSG, Manchester United and Bayern Munich for him.
Initially, Palmeiras wouldn't want to get rid of the attacker, at least until the end of the Brasilerão in December. He has already scored 10 goals, one-third of his team's total and sit at the top of the table.
The impending start of the Olympic Games will put him in a huge stage to show his talent. On top of that, if he does well, more than just five clubs will end up fighting for Gabriel.
The news has echoed in Spain, where AS reports that Los Blancos are now in the lead for his signature. The club has offered him the chance to stay in Brazil for a year and a half on loan.
While it seems like a bargain for a potential future star, the big problem is the player's rights. Like many other Brazilian players, including Neymar back in the day, his agents own more than half of his rights.
In order to complete the signing, Real would need to add 10 million euros to that 24 million price tag in terms of commissions. In any case, it still seems affordable.
Gabriel has a bright future ahead of him, which is why Madrid don't want to miss out like they did Neymar. However, they should evaluate everything well, as Robinho seemed like a good idea at the time as well.