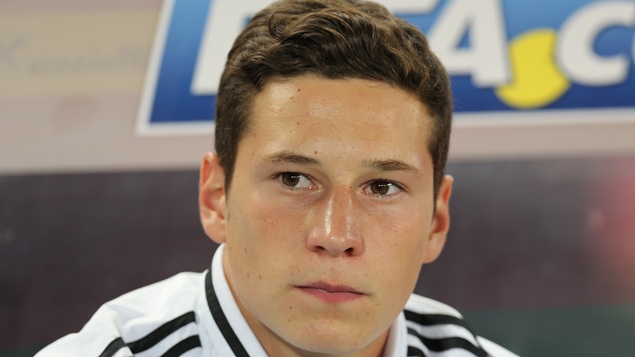 According to the Mirror, Wolfsburg may be forced to offload Julian Draxler, putting Arsenal "on red alert."
Draxler is itching to play European football but Wolfsburg failed to qualify for the Champions League this season. That failure has hurt their coffers, which is a problem exacerbated by their main sponsor Volkswagen, who are making cutbacks that could effect their deal with the club.
According to Wolfsburg's Sporting Director Klaus Allofs, there is much to be discussed and action may have to be taken.
"Clearly we have a lot to talk about. There were a few issues that have emerged in the past."
The Mirror believes Draxler would be available for £55 million, but if Wolfsburg were forced to sell, Arsenal could negotiate the price down.
Arsene Wenger is a long-time admirer of Draxler. Arsenal considered purchasing the 22-year old German before purchasing Mesut Özil in the summer of 2013. In January 2014, the Gunners had a bid rejected for Draxler, who was then with Schalke, and decided against increasing their offer as they felt the asking price was too high.
Although Draxler primarily operates on the wings, Wenger has indicated in the past that he believes Draxler could be effective down the middle.
Arsenal are in need of a striker and yesterday were linked with a massive offer for Gonzalo HiguaÍn. Wenger converted both Thierry Henry and Robin Van Persie from wingers to world-class strikers, and it seems he would consider the same trick with Draxler.
If the Gunners fail to find an available striker this summer, their plan B could be to go after a goal-scoring winger. Draxler certainly fits the bill for that role, as well.
Considering Wenger's longstanding admiration for Draxler, the situation at Wolfsburg is one to keep an eye on.