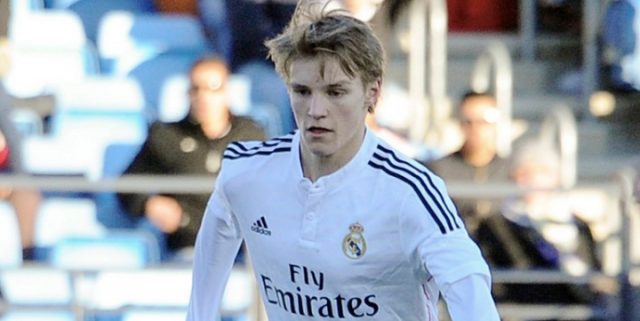 According to Marca, a Spanish sports newspaper, Martin Ødegaard is being followed teams from the German Bundesliga. He wants to keep growing in a more competitive league.
The Norwegian arrived in 2015 after an intense battle with Europe's best teams, including Bayern Munich, Manchester United and rivals FC Barcelona.
While he's seen as a potential future star, Real Madrid Castilla's failed promotion attempt to the Liga Adelante has forced him to look for growth elsewhere.
The club certainly doesn't want to get rid of him, and they would only consider a loan. However, the player and his father see the Bundesliga as an ideal location for his new phase.
Playing at a top competition is a top priority for both the player and the club. Nevertheless, Real would prefer he stayed in a La Liga club, as it would make the adaptation process easier down the road.
What seems clear is that he won't continue with Castilla, but it's too early for him to join the first team, as he wouldn't get the playing time necessary to develop into a mature player.
Even though Marca doesn't reveal the clubs interested in Martin, his future should be resolved soon. In the meantime, he will travel with Zidane and company to the American tour.