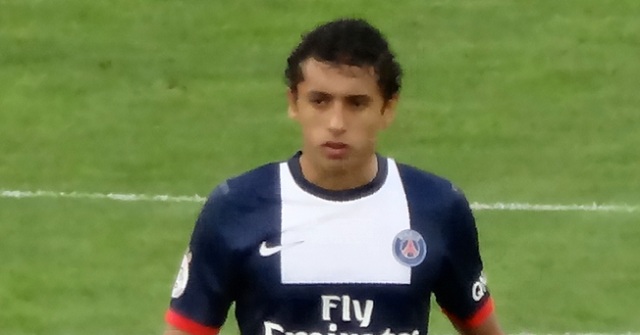 Arsenal is reportedly interested in 22 year old Brazilian international and PSG defender Marquinhos, according to Metro.co.uk.
Arsenal are in desperate need of some help defensively, and Marquinhos is reportedly not thrilled with his playing time at PSG, despite appearing in 29 Ligue 1 matches for the French club last season.
Marquinhos is considered a good defender, who is also good in possession. He was able to complete 93.3% of his passes in his 29 Ligue 1 appearances last season.
Marquinhos would be a good fit for the Gunners because he can play both center back and right back, both of which are positions Arsenal is currently lacking depth at.
Marquinhos could potentially step in and start for Arsenal at center back next season, while also filling in at right back if Hector Bellerin gets injured or needs a rest.
Manchester United, Chelsea, and Barcelona are also reportedly interested in Marquinhos, and it is hard to say who the favorite to sign the defender is at this point in the negotiations.
Given that Arsenal has a desperate need for a defender, I would think there is a good chance that Wenger pushes hard to get Marquinhos to the Emirates.