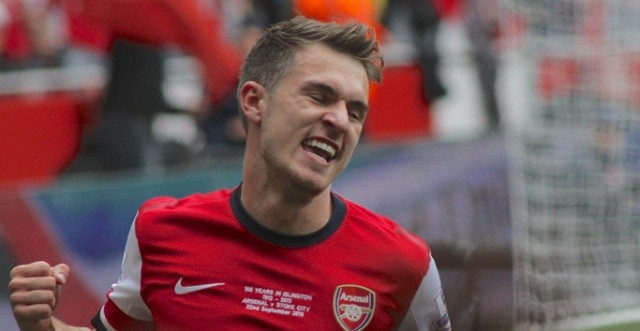 Manchester United are interested in Arsenal's Aaron Ramsey, according to The Sun.
The report suggests Jose Mourinho has identified Ramsey as an alternative to Borussia Dortmund attacker HenrikhMkhitaryan.
The 25-year-old Welsh international midfielder, who's been one of the stars of Euro 2016 so far, scored 6 goals and provided 5 assists in 40 appearances for Arsenal last season.
Ramsey would be a quality addition to the United team, but identifying him as an alternative to Mkhitaryan doesn't make much sense as they play in different positions.
Even though Mkhitaryan's pretty versatile, he'd most likely be signed as a first-choice right winger.
Ramsey can play on the right side of the midfield, buthe's not a winger and wouldn't be effective in Mourinho's system as he wouldn't be able to beat the opposition full-backs with pace and trickery.
Using Ramsey in midfield would make far more sense. He's a skillful and creative midfielder, whose quick thinking and eye for a pass could be invaluable for a team that struggled for creativity last season.
The Welshman wouldn't be an adequate option on the wing for United, but he could be a very important midfielder in Jose Mourinho's counter-attacking system.
However, it's hard to imagine Arsenal letting Ramsey move to Manchester United, especially considering the poor relationship between Wenger and Mourinho.