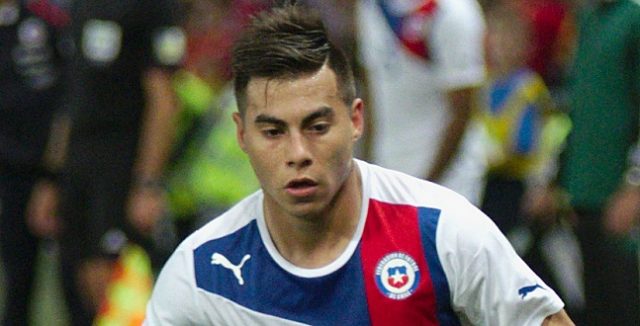 The famous Levi's Stadium is normally the site for American football team the San Francisco 49ers as well as a host for thousands of live events. One live event, unfortunately, will now loom over the shoulders of the Mexicans who attended it.
Chile dispatched a dismal Mexican side 7-0 in the latest quarterfinal of the Copa América Centenario on Saturday, leaving many to wonder how the 2015 Gold Cup champs managed to lose it all.
Some fingers point to the absence of Mexican captain Rafael Márquez, who didn't start against the current champions in Santa Clara due to the birth of his latest child. Iconic in Mexico's performances in the group stages, notably their thrashing of Uruguay 3-1 where he netted the second, a side without Márquez is noticeable defensively from the start.
Both teams were set to spark in a heated fixture on paper as they had relatively full strength squads. Mexican boss Juan Carlos Osorio didn't appear to fearful going into the quarterfinal as a press conference just two days earlier as he had answers loaded for the reporters, Goal.com understands.
"It's going to be a game of attacking, of defending…so I think it's going to be a beautiful game." – Osorio [Goal.com]
As many expected star men Alexis Sanchez and Arturo Vidal to be the driving forces behind Chile's victory, it came down to the most clinical finisher on the field in the form of Eduardo Vargas who bagged 4 in the 7-0 demolition. More tactical astute than his attacking compatriots and was always at the right position to smash the ball in the back of the net, he was key to Chile's positive possession. The TSG Hoffenheim striker is now currently top goalscorer in the competition.
A midfield of Vidal, Charles Aránguiz and Marcelo Diaz had plenty of fun running at the Mexican midfielders to submit them to pressure and backwards possession. Vidal alone was another standout who came up big when it came to shrugging past opposition and getting runs up the pitch.
By the fifth goal, Mexico were deflated; even a respectable goalkeeper like Guillermo Ochoa was being howled by the Mexican faithful, screaming profanities. Chicharito himself missing a few easy chances and could never get by a solid wall of red shirts.
By the sixth, Osorio's face was drained as he knew his position was in jeopardy as Mexico were not only royally kicked out of the tournament, but suffered one of their worst defeats in their tournament history.
But credit is due where credit is due and Chile were pulling out the big guns for this Copa America fixture. They assured us why their are the title-holders.