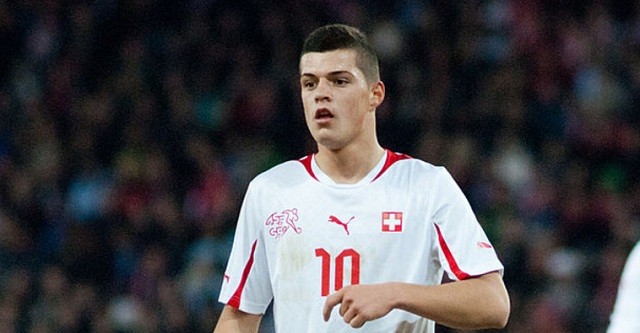 Arsenal new-boy, Granit Xhaka, opened Switzerland's Euro 2016 with a man of the match performance in a 1-0 win against ten men Albania.
The defensive midfielder put in a number of robust challenges and moved the ball well for his nation, garnering the praise of teammates.
"He brings calmness, his ability to play long passes, precision and aggression," said former Gunner and fellow Swiss international, Johan Djourou, who also touted Xhaka to find immediate success in the Premier League.
"I think he won't have a problem. He's a top-class player with lots of qualities. I think he'll do Arsenal a lot of good."
Although Xhaka's performance was excellent, it wasn't the biggest headline coming out of the match. Switzerland's first group stage game was more notable for the fact that Xhaka faced off against his older brother, Albania midfielder Taulant Xhaka.
The Xhaka family is originally from Albania, but moved to Switzerland when both boys were young. They were eligible for both countries, however, Taulant chose Albania, as his opportunities with Switzerland were limited.
It's more common to see family members face each other for their club's and not in international play. The only other footballing brothers who played against each other in an international match and whose careers are still active, are half-brothers Jerome and Kevin-Prince Boateng. Jerome plays internationally for Germany and Kevin-Prince for Ghana. The two brothers came against one another twice in the 2010 and 2014 World Cups.
Other brothers who play for different nations include Rafinha and Thiago Alcantara, who play for Brazil and Spain, and Paul, Florentin, and Mathias Pogba, who play for France and Guinea.
The Xhaka brothers were not the only players on the pitch with Swiss and Albanian backgrounds. Six players with Albanian heritage, including Watford's Valon Behrami, featured for Switzerland.
"There was six of us and it was tough," said Behrami. "Since the beginning, the pressure was so much.
"But we knew already. Over two months ago already I prepared the guys. I said, 'Listen, it's going to be hard. Prepare yourself mentally just to be focused on the game – nothing else.'"
In terms of what Behrami thought of Xhaka's chances in the Premier League, he too was full of praise.
"Everybody needs time and he will need time as well, but he is a great player. He's a top player and he's going to play in a team, which is good for his quality because he likes to play the ball and he's quite technical.
"And he can do both sides. He can win the ball and he's got good tackling skills. I think he's a great signing for Arsenal and for him as well it's a great move."
Watford and Arsenal train next door to each other, and Behrami is already planning to help Xhaka out where he can.
"The training grounds are close so I'm going to help him with what he needs to settle down, and I think he's going to have a great season in the Premier League."
Arsenal signed Xhaka for £30 million from Borussia Monchengladbach last month. Reported Arsenal target, Ricardo Rodriguez, also played for Switzerland on Saturday.