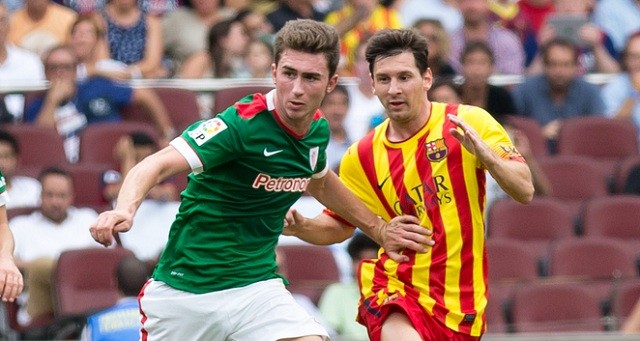 As the core players of FC Barcelona continue to get older, the need for youth is rising. A particular area of need is the center back position. The current average age of Barcelona's center backs from last season is over 30 with the reported departure of Marc Bartra, who was the youngest center back on the roster, to German club Borussia Dortmund.
29-year-old Gerard Pique is still expected to anchor the Barcelona backline next season, but he is in need of a potential partner with Javier Mascherano's future in doubt. Centerback is arguably Barcelona biggest position of need this summer. Here are three young center backs that Barcelona should be targeting this summer.
Aymeric Laporte
Considered the one of the best defenders in La Liga despite being only 22 years old, Laporte is someone who Barcelona has reportedly had their eye on for quite some time.
The Frenchman has been an undisputed starter at Basque club Athletic Bilbao over the past three seasons, making over 149 appearance since his debut in the 2012-13 season, including 45 this season and 49 in 2014-15. Barcelona got a look at Laporte's best first hand at the beginning of the season as Athletic Club held Barcelona to one goal in their victory in the Spanish Super Cup.
Leg injuries towards the end of the season and a release clause of 50 million Euros may turn away suitors, but his potential is something that teams like Barcelona are keen on.
According to Squawka, Laporte had a pass accuracy of 80 percent in his 26 matches in La Liga last season. A number that could be expected to go up should he join Barcelona.
Marquinhos
Marquinhos is another option that Barcelona should been considering. In fact it looks like he will be one of their top priorities this summer in the transfer market. The 22-year-old has not been able to secure a place in Paris Saint-Germain's starting lineup as he remains behind fellow Brazilian teammates David Luiz and Thiago Silva.
He is one of the highest rated prospects in football and is looking to move for more playing time. According to Squawka he completed 93 percent of his passes throughout the Ligue 1 campaign, a number that surely jumps out to Barcelona and their possession style of football.
He has also played right back at the French club, an option that could be important with the confirmed departure of Dani Alves from the Blaugrana. The Catalan club have reportedly been open to offering 40 million Euros for the player.
Shkodran Mustafi
While not the flashy signing Barcelona fans may be expecting, German international Shkodran Mustafi may be just what they need.
With 78 appearances for Valencia CF since signing for them in the summer of 2014 he has been one of their reliable defenders. While Valencia may have had a rough season, which saw them under three different managers before finally finishing 12th in La Liga, Mustafi showed his quality throughout the lost campaign regardless.
Mustafi had a passing accuracy of 81 percent in La Liga and won 53 percent of his aerial duels, according to Squawka. He would be the type of under the radar and inexpensive signing that would allow the Blaugrana to move ahead and put money towards other positions of need. He has drawn interest from English clubs, so he might not be on the market all summer.