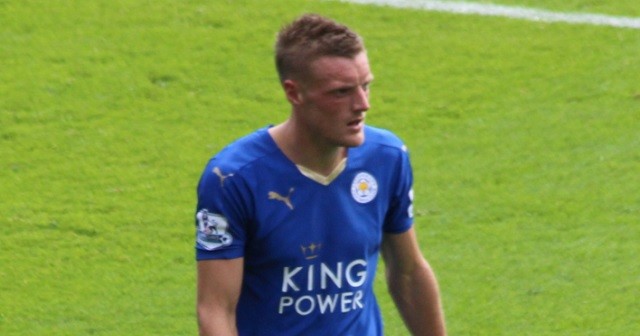 In an exclusive, the Guardian's Stuart James, reports that Arsenal have triggered Jamie Vardy's release clause. The England striker signed a new three and half year deal that pays him £70,000 per week this past winter, and the player's agent had Leicester City insert a £20 million release clause that only applies to teams in the Champions League.
Understand that Arsenal have triggered the release clause in Jamie Vardy's contract. Leicester still determined to keep hold of him.

— Stuart James (@StuartJamesGNM) June 3, 2016
Leicester reserve hopes of keeping the striker and may offer him yet another improved contract. Vardy enjoys a close relationship with the club's owners and his manager Claudio Ranieri, and there is a desire to keep the core of the squad together after winning the Premier League last season.
The decision is now Vardy's to make. The Mirror's John Cross is reporting that Arsenal are offering Vardy terms somewhere in the range of £120,000 per week for four years. Cross also revealed that Arsenal had been contacted by Vardy's representatives a month ago to gage their interest, but the club did not bite at the time. It appears that West Ham, Liverpool, and Manchester United all registered their interest, as well, but couldn't take advantage of the clause because all three are not Champions League-bound.
At the age of 29 and having broken through to the professional ranks at the age of 25, Vardy is at a critical stage of his career and the opportunity to play for a team who consistently appears in the Champions League could be hard to turn down. At the same time, Vardy is in an excellent position with Leicester, and considering how the club's season went, it would not be a surprise to see him turn down a bid from a larger club.
Arsenal are on the lookout for a striker this summer. Arsene Wenger has been trying to upgrade the position for a few years now, but hasn't had any luck in the market. Danny Welbeck is set to miss most if not all of next season to a knee injury to make matters worse. The club had been linked with Alvaro Morata and Vincent Janssen, but this is the first time an actual bid has been reported.
While Vardy is an exciting name, it's hard to see how he integrates into the squad. Leicester is a defensive team that beats their opponents on the counter, and Vardy is perfectly suited to that style. Rather than create space for himself and others, he exploits space that presents itself to him. Arsenal face opponents who clog up the final third 90% of the time, thus providing very little room for players to exploit, leaving a player like Vardy little room to operate in. Theo Walcott is an excellent example of a player who has struggled in Arsenal's system because of the lack of room left by opponents, and would be a good study case to compare with what Vardy might face as an Arsenal player.
You could argue that Arsenal may be looking to change their style and become a counter attacking team. However, to become a counter attacking team, you have to face opponents who attack you first, which is almost never the case with Arsenal.
Additionally, Vardy has had only one excellent season in type flight football and there is the danger that he could be a one season-wonder. He certainly wouldn't be the first player to fall into this category, and Arsenal wouldn't be the first club to fall victim to this phenomena.
Vardy's 24-goal haul in 36 league appearances was impressive, but the season prior to that he managed 8 goals in 35 appearances. That's not a knock on his finishing abilities, he scored with regularity in the Championship and lower leagues, but rather evidence that he is a system-player. This year's Leicester side's style fit his skill set perfectly, and it's hard to see Arsenal providing a style that suits him, nor are they likely to change the way the play to allow Vardy to thrive.
His age is also a barrier. At 29, and turning 30 in January, Vardy's best years are not exactly ahead of him. £20 million is a modest fee to pay for a 20 goals a season striker, especially one at his age, but again, he has not done that with regularity at a high level.
In fact, he may not be a huge upgrade over Oliver Giroud, Arsenal's current main striker. Their conversation rates are strikingly similar, and it's not as if Vardy outscored Giroud this season, as the Frenchman also bagged 24 goals despite experiencing a poor second half to the season.
Conversion excluding penalties

Vardy
14-15 12.5%
15-16 22%

Giroud
12-13 12.5%
13-14 17%
14-15 24%
15-16 19%

— Orbinho (@Orbinho) June 3, 2016
Overall, this is a very un-Arsenal type move and is a serious shift away from their previous transfer policies. It almost has the looks of a panic-buy to it.
Signing Vardy would be a short-term solution, if a solution at all, and he's more likely to serve as a complementary striker alongside Giroud. You could almost make the argument that if Theo Walcott leaves the club this summer, Vardy is a like for like replacement, considering their speed and playing style.
It certainly appears there is genuine interest and it's likely that we'll see a conclusion to this new saga sooner than later with the Euro's starting in a week.
Last time Arsenal attempted to trigger a release clause, they made a cheeky bid for Luis Suarez, which backfired on them badly and prevented them from signing Gonzalo Higuaín. Expect a few twists in the future.