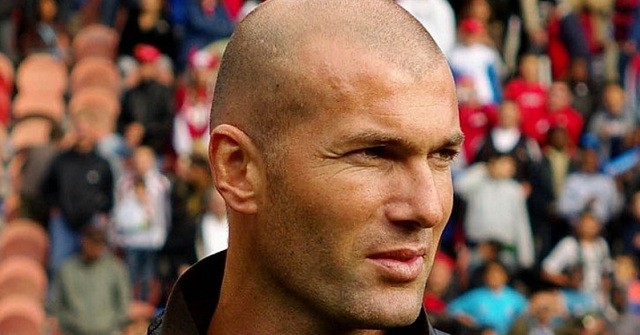 Atletico Madrid has become one of the most defensively sound teams in Europe in recent years, thanks to Diego Simeone's efforts. Despite being a team low on budget, The Red and White Stripes of Madrid have been able to beat big guns of Europe. Their biggest strengths lie in their collective team effort and work rate, which every member of the team puts in. Their resilient defending has given them the edge over other the big teams  they have faced.
The Champions League Final will not be a normal clash of two teams for  European glory. Both, Diego Simeone and Zinedine Zidane are tactical geniuses who believe in a thorough study of the opposition's game plan before executing theirs.
What happened in the 1st Leg of the semi-final…
Real Madrid have all the resources and artillery to outsmart Simeone's tactics. If someone could just sit Zidane for a moment and show him the 2nd leg of the Semi-final between Bayern Munich and Atletico Madrid, things will just click for Zizou.
Pep Guardiola encountered a tough challenge in the 1st leg, as his team found it difficult to break down Atletico's defense. His wingers were uncomfortably pushed towards the sidelines, from where they threw in crosses and Atleti dealt with them quite comfortably. Simeone outsmarted Pep in the 1st leg as Bayern Munich had no idea of how to bring them out of their comfort zone.
Story of the 2nd Leg…
But what happened in the 2nd leg amazed everyone around Europe. It was expected to be an another slow, possession-play game from the Bavarian side, but in turn Pep Guardiola sent his team out in full force. Bayern Munich sent in waves after waves of attack, while Atleti stood and had no idea of what was happening around them.
Their leader, Diego Simeone, was left restless on the sidelines because it was something which he never expected to happen either. Hapless and tattered, stood everyone related to Atletico Madrid as they felt what could be a night of heavy disappointment for them. However, the half time whistle sent a wave of relief in Atletico's dressing room, when Simeone planned to deploy his weapon, Yannick Carrasco.
With the second half, Simeone substituted Augusto Fernandez because he was about to have one of the worst performances of his career. What boost Atletico were handed with Carrasco was that they could possess a much greater threat on the counter, which made it tough for the German side to commit men forward.
Contribution of Atleti's forwards…
Also, Fernando Torres and Antoine Griezmann's defensive contribution has played a vital role in the ball's movement around the pitch. Their body-direction and movement forced Bayern and even Barcelona to play the balls out wide, where they would suffocate and steal the possession from the opposition.
It was one defensive mistake which enabled Griezmann to run around the defense and strike past Neuer. Thus, costing Bayern Munich the whole tie despite of a dominant display.
Pep's counter-strategy…
Let's study what Pep Guardiola actually did to shake Atleti's defense. Marking his mistakes in the first leg. Pep realised his wingers were pushed towards the sidelines, on their weaker foot which led to their inability to find a break-through. In the return-leg, very tactically, Pep swapped his wingers on the either wings and directed them to cut inside which would then enable David Alaba and Lahm to make overlapping runs forward.
How the inside runs of wingers also helped Bayern was the fact they could play lofted balls to the likes of Robert Lewandowski and Thomas Mueller, who are very dominant in the air. Playing the balls in between  Atletico's formation lines helped the German side to create as many chances as possible. Moreover, the forward runs of full-backs handed Bayern Munich with another attacking option. Atletico's life was made more miserable with Mueller and Vidal roaming free on the pitch, making it difficult for Simeone's men to man-mark.
Pressing for possession…
Even when Pep's team lost the possession, they regained it in a matter of seconds by counter-pressing. Whenever Atleti took possession, the German side did not fall back, instead they created counter-pressure and regained the ball in a matter of seconds. Pep was fully aware of the fact that Simeone's men will look to make the most of the counter-attacks, to deal with it, he placed a player right in the gaps from where Griezmann and Torres would make the bursting runs forward.
Zidane's job…
Zidane has got many positive aspects to take from Pep's tactics. He has got all the artillery to return fire on Simeone's one. For Zidane, what will be crucial is to choose a squad which will allow them to have swift movement between Atleti's formation.
Simeone is likely to play a 4-4-2 or a 4-1-4-1, either way, Zidane's men will have to overcome two defensive lines of four players each. In such a situation, playing Casemiro might not be a very wise choice, as he is not the kind of player who will drop into spaces to take a pass and follow it forward. But, Zidane does have a player who is absolutely brilliant in making spaces and falling into those small defensive gaps or pits, Isco.
Isco is a player who loves to keep the ball under his feet and make those small-small runs. He has this unique ability to receive and hold on to the ball in congested formations. The need to deploy Casemiro will not arise, as Atleti are not expected to play attacking football, unless Real Madrid score and lead, and try to protect their lead in the last portion of the game.
Los Blancos' artillery…
Modric and Kroos have thrived under Zidane and their ability to hold and create spaces have done Real Madrid a huge favour. They are one of the most creative midfielders in Europe and their workrate has been extremely high. Defensively solid, difficult to mark, these two are the definition of a perfect midfielder.
Marcelo and Dani Carvajal, the two full-backs are highly committed to their attacking duties as well. These two pacey full-backs on a general course of a game provide an ample number of forward and overlapping runs. Their runs will enable Los Blancos' wingers, Ronaldo and Bale, to cut inside just like the German side. Cristiano Ronaldo has been an exceptional creator of space and goal scoring opportunities. His off-the-ball movement is sublime and unpredictable, which makes it difficult to mark him.
Also, up-front, Real Madrid has the edge in creating marking mismatches. Gareth Bale's heading abilities have increased immensely as compared to last season. His opposite, Felipe Luis, is nowhere near to Welshman's pace and heading. The second B of BBC, Benzema, has played a pivotal role of running the channels between Ronaldo and Bale. He might not be one of the most technically gifted strikers, but his ability to synchronise wingers makes him the cog in Los Blancos' attacking wheel.
Conclusion…
Zidane has been the man in form. His arrival has changed things drastically at Santiago Bernabeu. It is obvious he will not let his players take the pitch with a normal routine game plan. Individual battles will always favour Real Madrid, but on the season deciding night they need to play as a unit.
A unit which can tackle Diego Simeone's tactically tough team.