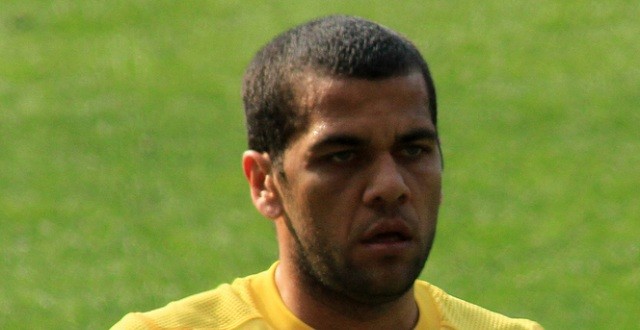 Barcelona could lose another member of its defense to the reigning Serie A champions. Dani Alves, the 33-year-old Brazilian who joined Barcelona in 2008, is reportedly set to move to Juventus on a three year contract.
Cadena Ser reported that Alves would leave for free to join the Turin club. This comes just one year after he renewed his contract with Barcelona.
Barcelona right back Dani Alves (33) will join Italian club Juventus in the coming weeks. [ser]

— barcastuff (@barcastuff) May 25, 2016
Alves has been a critical part of Barcelona's success since he joined, coming from Sevilla as one of Pep Guardiola's first signing for the club.
Alves has won 23 trophies at the Catalan club since his arrival, including six La Liga championships, four UEFA Champions Leagues, and four Copa del Rey titles.
Sport has also reported that Alves had been in talks with Juventus weeks prior.
Reports have said that there was a stipulation put in Alves' renewal contract that would allow him to leave Barcelona for free.
A clause that was added to the contract of Dani Alves (33) when he renewed last year says he can leave Barcelona for free. [sport]

— barcastuff (@barcastuff) May 25, 2016
Alves' departure would leave another hole in Barcelona's defense. Along with the expected departure of Javier Mascherano, Barca would have to make significant signings to maintain their structure. Aleix Vidal and utility man Sergi Roberto would be the only right-back options for Barcelona coach Luis Enrique should the club not make any signings at the position.
Alves has made 391 for the Catalan club, he has registered 21 goals and given 74 assists. His 74 assists is the second most in club history behind Lionel Messi. Alves also became the third player to reach 100 assists in La Liga (in his time with Sevilla and Barcelona)
If Alves does leave, it would come as a surprise decision and could leave the Barcelona board scrambling for immediate solutions.