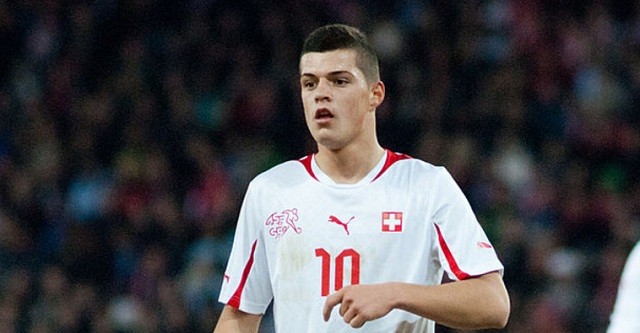 It is being reported that Granit Xhaka is close to agreeing to a deal that would send him to Arsenal next season.
The move that would send Xhaka from Borussia Monchengladbach to the Emirates is reportedly worth £33.8 million, and Arsenal is hoping that a deal can be announced in the next couple of weeks.
Xhaka is known as a hard nosed midfielder who is coming off a strong season in the Bundesliga.  He is only 23 years old and he would likely be a key player for Arsenal for years to come.
In the Bundesliga last season Xhaka averaged 2.7 interceptions per game, 2.4 tackles per game, and 1.6 clearances per game.  This demonstrates that Xhaka is good at anticipating passes and disrupting the opposition's attack.
The one downside to Xhaka's game is his propensity to foul opponents.  This comes with the job of a defensive midfielder, but Xhaka has had a bit of a tendency to get out of control.
Xhaka had 3 red cards in 28 appearances in the Bundesliga last season and he led the league in that category.  He also committed 2.6 fouls per game, earning him second place in that category.
Xhaka did demonstrate some lack of discipline last season, but overall he is well worth it.  If Arsenal can secure a Xhaka signing it would help out their defense immensely, but it would also behoove them to make a major move for an attacking player as well.
Arsenal finished tied for the third best defense last season in terms of goals allowed with only 36 goals conceded.  This put them only one goal behind Manchester United and Tottenham for the best defense in the league.
Xhaka could help make Arsenal the best defensive team in the Premier League next season, but if they want to win the title they still need to address the offense.
Arsenal finished with 65 goals last season. This was tied with West Ham for 4th best in the league and it was 6 behind Manchester City for the league lead.
The Gunners actually were better defensively than they were offensively last season, and getting Xhaka would help ensure they are an elite defensive team next season.
With the defense looking strong, Arsenal should shift their attention to getting an attacking player if they are able to complete this move for Xhaka.
If Wenger can secure the Xhaka signing and bring a star attacking player to the Emirates, then Arsenal could be the best team in the Premier League next season.