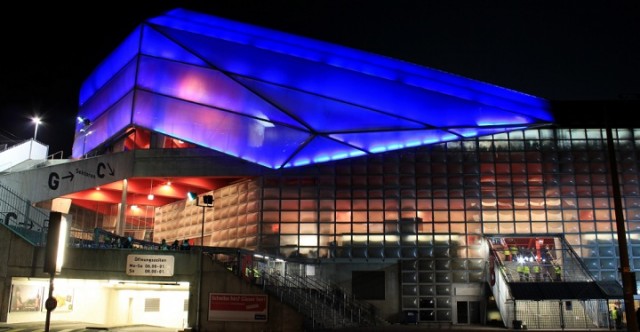 This is match against Sevilla in the Europa League Final is the last in Jurgen Klopp's first season as the manager of Liverpool.
In the months that he has been manager, the Reds have already made major strides in becoming a top club once again. Getting the first trophy since 2012 would be the perfect end to this season.
Goalkeeper
With reports of the club agreeing to terms with Loris Kairus, Simon Mignolet has to feel as if he needs to have a clean sheet. Any mistake will not be tolerated and it would only fuel the disdain Liverpool fans already have for him.
Right-Back
Nathaniel Clyne should be able to dominate the right flank as usual. He is an excellent defender but as usual, he has to work a bit on his offensive skills.
Center-Backs
Kolo Toure and Dejan Lovren will need to keep Kevin Gameiro from getting into dangerous positions. This is likely Toure's last match in a Liverpool jersey and going out with a clean sheet and a trophy would be the perfect send-off for the big Ivorian.
Left-Back
Alberto Moreno will be facing his old team and he should be extra motivated to put in a good performance.
Right Midfield
Adam Lallana is finally playing in a system that fits him perfectly and he has become a key player under Klopp. He is playing with purpose now and that has unlocked his true potential as a player.
Midfield
James Milner and Emre Can is the best pair that Klopp can field. Even if Jordan Henderson came on as a substitute against West Brom, it is not the best idea to start him in a match as intense as this one. Milner and Can have the engines to press all over the pitch and they will be tasked with minimizing Ever Banega's influence on the match.
Left Midfield
Philippe Coutinho won Liverpool's player of the season award and he can show why he won it with a great performance on Wednesday. He is good enough to get past any defender and he has become a very capable scorer when he cuts in from the left.
Attacking Midfield
Roberto Firmino looks like he has found his rhythm and his fantastic dribbling skills allow him to get all over the pitch effectively. He will be the target of some physical play from the Sevilla midfielders but he is more than capable of holding his own.
Forward
Daniel Sturridge will be looking forward to facing a Sevilla defense that conceded 50 goals in La Liga and 11 in it's last 5 matches. His movement and speed up top has given the Reds a more dynamic attack and that doesn't even count his excellent finishing that makes him a shooting threat from all over the pitch.
(4-4-1-1)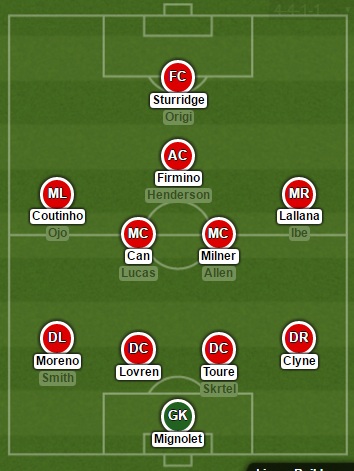 Via – Lineup Builder