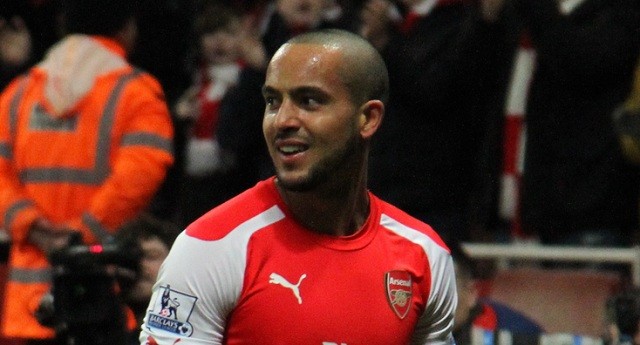 West Ham have submitted a €30 million bid for a "top forward" in Ligue 1 and are ready to make another major move for a player in the Premier League, according to co-owner David Sullivan.
The "top forward" in Ligue 1 is widely believed to be 22-year old Marseille striker, Michy Batshuayi, while many in the English press claim the player in England is Liverpool's Christian Benteke.
However, the Sun claim that the player in England Sullivan is referring to is in fact Arsenal's Theo Walcott. In an "exclusive", they reported that Walcott is close to agreeing terms with the Hammers and a summer move is on the verge of completion.
Arsenal could be willing to part with the England international for a fee of roughly £20 million. Walcott for his part would welcome a move to West London and sees it as an opportunity to kick-start his career again. West Ham's move to the Olympic Stadium and their positive season this year are all contributing factors to what Walcott sees as an exciting opportunity.
Walcott signed for Arsenal as a 16-year old but has thus far failed to live up to the hype surrounding him at the time. He's struggled the past two years after suffering a serious knee injury that kept him out of first team action for a year. Prior to the knee injury, Walcott had shown signs of reaching his potential. Unfortunately, injuries have followed Walcott throughout his career and just when he seemed to be hitting peak form, he'd get hurt.
Last summer, Walcott signed a four-year extension after a cracking end to the season that saw him bag a hat trick in the last game of the season, and score Arsenal's opening goal in the FA Cup Final. However, Walcott's return has been poor this year and he's only got nine goals in 42 appearances to his name. He last started for his club was in March in the FA Cup, and his last Premier League start was in February.
Signing both Batshuayi and Walcott would be a statement of intent by West Ham. Although neither are world-class players, the fees that the Hammers are willing to pay for both are huge and clearly indicate the power the Premier League has in the transfer market.
If clubs like West Ham, who in the past could only dream of offering such a fee for one player, let a lone two, are able to compete in the transfer market in such a manner, we are in for an interesting summer.