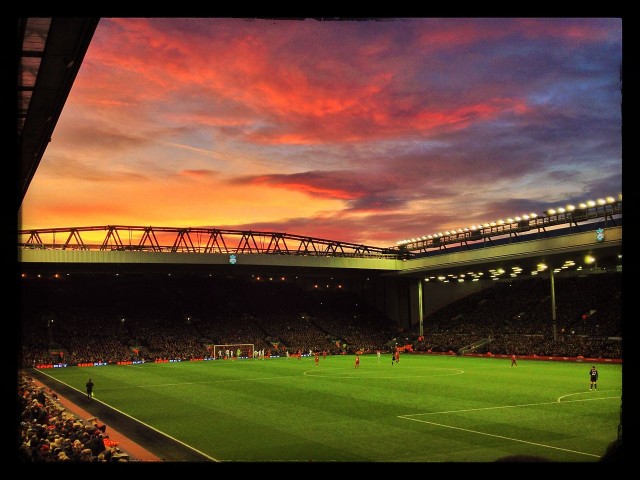 After an impressive 2-0 win over Watford by a younger squad, Jurgen Klopp and Liverpool take the field once again this week, this time against 9th placed Chelsea. Despite being able to not even come close to defending their title, The Blues have righted the ship and remain very dangerous opponents.
Goalkeeper
Simon Mignolet has had two consecutive clean sheets but he will have a hard time getting a third on Wednesday. He remains a great shot stopper, the main problem is that he has no control over his box and his distribution is lacking.
Right-Back
Nathaniel Clyne will have the toughest task in the defense since he will be marking Eden Hazard. The Belgian has been in great form in recent weeks but Clyne has proven time and time again that he is more than capable of dealing with dangerous wingers.
Center-Backs
Kolo Toure and Dejan Lovren will be the pairing of choice for both this and the Europa League Final matches. They will have the unfortunate task of trying to control Diego Costa without getting sent off. Both are physical enough but they will really have to control their tempers since Costa is a master at getting under opposing players' skins.
Left-Back
Alberto Moreno has the speed to match Willian but he has to be extremely focused on proper defending since he almost gave away a penalty against Villarreal.
Right-Midfield
Adam Lallana will be an x-factor since he will have to help Clyne deal with Hazard. Because of his relentless energy, the Englishman is the best option to fill the role but that may make his impact in attack when Liverpool have the ball.
Center-Midfield
James Milner and Emre Can will need to control the pace of the match but they should be more than up to the task. Milner has been a revelation ever since taking over the captain's armband and his energy sets the standard for everyone else. Can, on the other hand, may be a bit of a risk to play since he has just returned from a bad ankle injury. However, he provides a dynamism that nobody else on the squad can emulate.
Left-Midfield
Philippe Coutinho should be able to take advantage of Branislav Ivanovic's severe lack of speed. Coutinho has become a threat from all over the pitch and defenses now have to watch him and try to keep him away from the ball as much as possible.
Attacking Midfield
Roberto Firmino has been in great form over the past two games and he should be able to really trouble a Chelsea defense that has struggled this season. Namanja Matic will probably be marking him but he is good enough to find ways to still have a huge impact on the match.
Forward
Daniel Sturridge will likely return to face his former club. He has already scored eight goals in the Premier League this season despite only making thirteen appearances. That kind of threat is just what this team needs and Sturridge should have a few chances to score.
(4-4-1-1)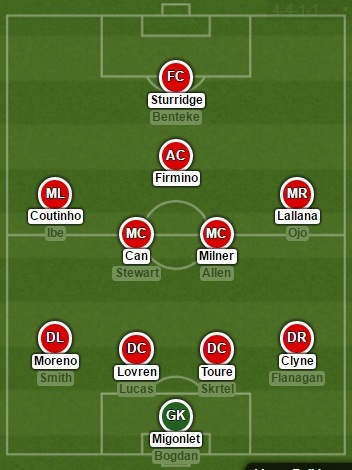 Lineup Builder