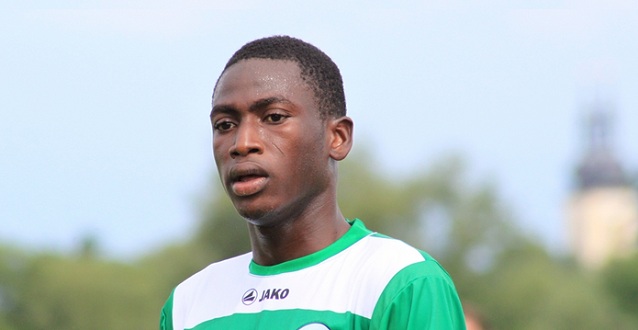 Chelsea were unable to build on their 2-2 draw against Tottenham Hotspur, after suffering a disappointing 3-2 defeat at the hands of relegation threatened Sunderland last weekend.
Strange as it may sound though, Chelsea performed very well during the clash and were perhaps a bit unlucky to end up on the losing side.
The Blues seem to be already preparing for the summer holidays but there are still a couple of games from which the former English Champions will be keen on earning victory from – especially the one against Liverpool at Anfield on Wednesday night.
Here is the strongest possible Chelsea lineup for the clash against Liverpool –
Goalkeeper
Thibaut Courtois was beaten thrice against Sunderland but he could not be accounted blame for any of the goals. That being said though, Courtois would most certainly have not been pleased at conceding so many times and he will look for a much better return against Liverpool in midweek.
Defence
At the back, John Terry will be unavailable after stupidly picking up a red card against Sunderland and the suspension means that the legendary club skipper will not be handed a proper farewell.
In terms of the game, Terry is likely to be replaced by Abdul Baba Rahman in the starting lineup and it means that the backline will go through a major reshuffle.
In order to accommodate Rahman, Ivanovic will move into the centre defence alongside Gary Cahill while Cesar Azpilicueta with shift to the right hand side.
Midfield
Nemanja Matic found the back of the net against Chelsea and he looks set to continue alongside John Obi Mikel while the attacking positions in midfield will be occupied by the trio of Eden Hazard, Willian and Cesc Fabregas.
Kenedy, Oscar and Bertrand Traore are the other options manager Guus Hiddink will be able to select from during the clash.
Attack
Diego Costa scored a well taken goal last weekend but he was also guilty of missing a couple of key chances and the striker would have been a bit disappointed with his overall display.
Now Costa prepares for an encounter against Liverpool and one can be sure that he will be fired up to do well on the day.
(4-2-3-1)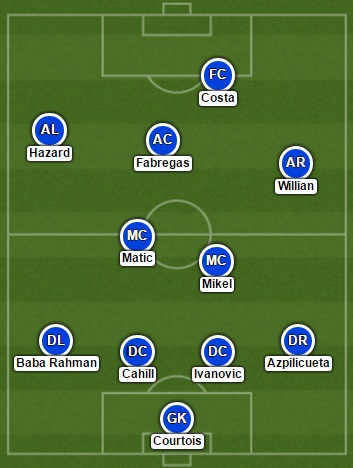 Via – Lineup Builder