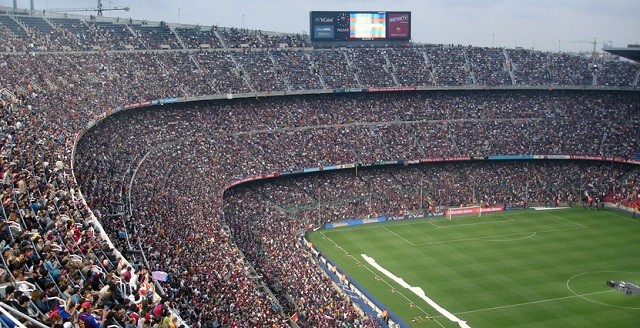 On Sunday, 8th of May 2016, FC Barcelona and RCD Espanyol will measure forces in the Catalan derby at the emblematic Camp Nou for Round 37 of the Spanish Liga BBVA.
FC Barcelona didn't have the best of matches at Benito Villamarín against Real Betis last time out, but in the end they still managed to get away with the three points from their visit to Andalusia.
Luis Enrique, nevertheless, wasn't once again happy with his players' overall performance and has, according to recent reports from the Spanish media, verbalized his dis contempt at half-time, when the players got together in the locker-room.
The Asturian head coach questioned the players' attitude and reportedly asked if they are really want to win the league this season playing like that. Regardless of the veracity of such story, the truth is that Barça's players returned to the second-half with a slightly different attitude and opened the score on minute 50' by the versatile Croatian midfielder Ivan Rakitic.
The Catalan team, who were already playing against just ten men after Heiko Westermann picked up a red card in the last minutes of the first-half, managed to control the rest of the match and still netted the second goal by El charrúa Luis Suárez on minute 81'.
FC Barcelona remain sitting at the top of the table with the exact same points of the title contenders, Atlético Madrid, and one point more than their all-time rivals, Real Madrid. The upcoming Catalan derby against Los Pericos is for that reason of the paramount importance for the Blaugranas, who cannot allow any more major upsets in the two remaining matches of the season.
For that particular match, Luis Enrique will most certainly not be able to rely on the services of the Chilean goalkeeper Claudio Bravo, who is dealing with a calf injury. Sandro and Vermaelen will also miss out there due to long term injuries.
As for their city rivals, Espanyol, they aren't yet mathematically safe from relegation, since they are only five points clear from the relegation zone with two matches to go until the end of the season. Constantin Galca has managed to change several aspects in this Catalan team after his arrival back in December, but the team still lacks consistency and keeps struggling to win away from Cornellà-El Prat.
For the upcoming visit to Camp Nou, the Romanian manager and former RCD Espanyol's midfielder will not be able to count on Álvaro González and on Óscar Duarte, who are both suspended. Arbilla and Abraham will also miss out there due to injury.
Back in 2007 a late goal from the former Spanish sharpshooter Raúl Tamudo at Camp Nou prevented FC Barcelona from winning La Liga's title in the match before the last one of that season and, although a similar scenario is not likely to happen this term, the Blaugraunas need to pull rank if they Rd don't want to fall victims of any last minute surprises. That being said, this might be FC Barcelona's strongest line-up for next Sunday's fixture against RCD Espanyol.
Goalkeeper
Marc André Ter-Stegen is back in FC Barcelona's starting line-up benefiting from Claudio Bravo's calf injury that will probably keep him sidelined until the end of the season. Although not for the best possible reasons, it is a deserved prize for the young German netminder.
Defence
Dani Alves picked up a yellow card and was substituted in the match against Real Betis, but he will probably keep his place at Barça's defensive quartet alongside Javier Mascherano, Jordi Alba and Gerard Piqué.
Midfield
This is not thr time for trying new things and Luis Enrique will certainly field his most reliable midfield trio for the upcoming derby against Los Pericos. Busquets, Rakitic and Iniesta will surely composed Barça's midfield triangle next Sunday.
Forward
No changes are also expected to happen up front, and the Asturian manager will most certainly field Messi, Suárez and Neymar to try to explore the visitors' blatant defensive frailties.
(4-3-3)