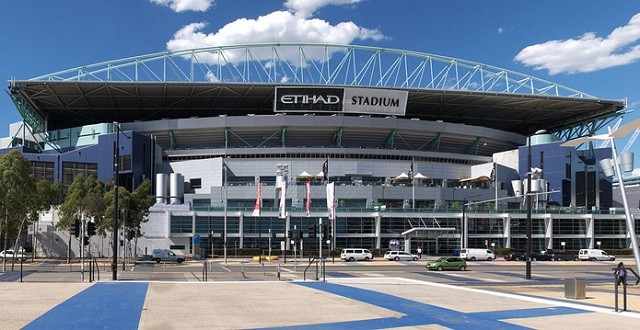 Arsenal and Manchester City clash in their penultimate games of the season. At the beginning of the year, many had tipped Sunday's meeting at the Etihad to be a title decider. Instead, it's turned into a Champions League qualification match.
If Arsenal were to win, they would clinch third and stay in contention for second place. A Man City loss could see them battle for fourth place with Manchester United or West Ham on the final day of the season. However, if Man City were to win, the last game of the year could see Arsenal, Man City, and Man U or West Ham fight it out for third and fourth place.
The prize of third offers automatic qualification to the Champions League Group Stage – barely, a consolation for Arsenal and Man City at this point of the season, but a definite achievement for Man U considering the bumpy road they've faced.
City are coming off a lackluster performance against Real Madrid in the Champions League Semi-Final that saw them knocked out by a 1-0 aggregate. For a club playing in Europe's most elite prize, they did not seem interested on the day.
Arsenal are coming off a 1-0 home win against Norwich, and like their opponenet and Sunday, haven't seemed interested for a couple weeks now. Sunday's match could come down to who plays less worse if both teams' interest levels remain what they were in their previous matches.
One motivating factor for Arsenal, although this may be more for the fans, is a win would make their last game of the season meaningless (depending on how Tottenham perform this weekend). If that's the case, it would be an excellent opportunity for players like Santi Cazorla, Jack Wilshere, and maybe even Serge Gnabry and Jeff Reine Adelaide the opportunity to start and gain match fitness.
It would also be an excellent opportunity for Mathieu Flamini, Mikel Arteta, and Tomas Rosicky to say goodbye to the Arsenal faithful. All three have been immensely valuable members of the squad and a proper send off is what they deserve.
Arsene Wenger spoke to the press Friday and revealed some team news. Per Mertesacker and Alex Oxlade-Chamberlain will both miss the rest of the season. Mertesacker suffered a hamstring injury last weekend and Oxlade-Chamberlain suffered a new knee injury on Monday that will also keep him out of Euro 2016.
The manager has yet to say if Wilshere will take part this weekend, although one would think he would at least make the bench. Cazorla played his first match for the Under-21's since an Achilles injury kept him from making a return from a knee injury in February. The boss did not mention Cazorla at all, although you would also expect him to make the bench.
With little rotation expected, here is Arsenal's most probable lineup against Man City on Sunday.
Goalkeeper – Cech
Petr Cech takes his place in goal. Depending on the result this weekend, it could be his last game of the season as Wenger may look to give David Ospina a match in a meaningless game.
Right Back – Bellerin
Like Cech, depending on how this match goes, this could be Hector Bellerin's last game of the season. Calum Chambers has barely featured this season, although when he has, he's done well and he deserves (and needs) some match time.
Bellerin has played a lot of games this year and a summer off is what he deserves.
Center Backs – Koscielny & Gabriel
Gabriel steps in for the injured Mertesacker, and will play next to Laurent Koscielny. The center back pairing will have their hands full with Sergio Agüero.
Both Gabriel and Koscielny play in a similar high-risk fashion where the relay on getting to the ball first and using their speed to recover. They will need to play intelligently this weekend.
It's possible we'll see Chambers play at center back next weekend instead of at right back and in place of Koscielny.
Left Back – Monreal
Nacho Monreal retains his spot in the lineup. He will either go up against Samir Nasri or Jesus Navas, although the former is the more likely player to start considering Navas' participation on Wednesday.
Defensive Mid – Elneny
Francis Coquelin's breakout game came at the Etihad last season, but he'll likely be on the bench as Mohamed Elneny has been the favored defensive midfielder the past few weeks. The Egyptian was voted Arsenal's player of the month by the fans for his contributions in April.
Central Mid – Ramsey
There are murmurs that Jack Wilshere could start instead of Aaron Ramsey, but Wenger's unwillingness to commit to Wilshere's participation this weekend is interesting. Pessimists would say that Wilshere's fitness is a concern. However, with only a two games left this season, you'd imagine Wilshere would be given the opportunities to gain some fitness, especially considering Arsenal is not fighting for silverware at this point. 
Attacking Mid – Özil
Mesut Özil still sits two assists away from equaling Thierry Henry's single season assist record. It's amazing the German hasn't already broken the record when you realize he's already created the most chances ever in a single Premier League season. Both records speak volumes to Arsenal's lack of clinical finishing this year.
Wide Right – Alexis
Alexis went straight to the dressing room after being subbed with 5-minutes left last weekend. He wasn't injured and didn't seem to be angry on the pitch. It's likely that frustration from this season played a role in his reaction, as well as the fact that it's well-known the Chilean wants to play every single minute of every game.
He'll be up for this match as he usually performs against the big clubs.
Wide Left – Iwobi
Alex Iwobi was somewhat anonymous last weekend and was taken off for Danny Welbeck 10-minutes into the 2nd half. He'll retain his position in the starting eleven in place of Olivier Giroud, which moves Welbeck back to striker. Any match time Iwobi can get, especially against another top four club, is valuable for him at this point of the season.
Striker – Welbeck
Welbeck reclaims his place in the squad, leading Arsenal's front line. Arsenal are a better team with him on the pitch because his mobility, energy, pace, and hold up play pose a constant threat to the opposition. The fact that he scored within three minutes of taking the pitch last weekend speaks to the role he can play on the field.
There are still concerns over his fitness levels, which is something that he acknowledged as well after the Norwich match. The fact that Welbeck has yet to complete 90-minutes since returning from injury is a concern for England. More game time is the only way he can build on his fitness, though.
(4-2-3-1)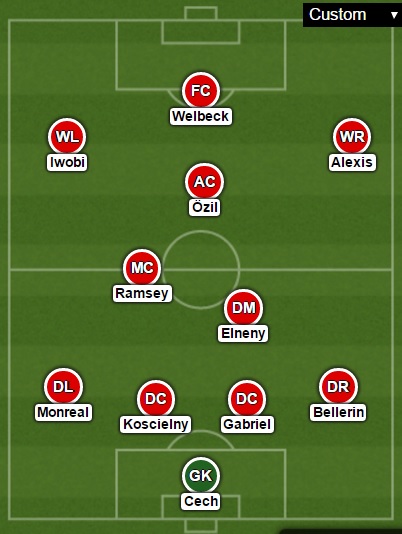 Via – Lineup Builder