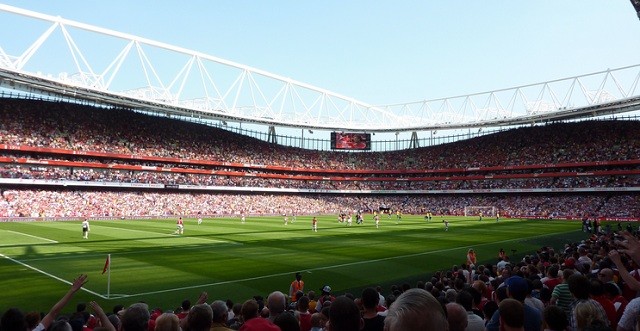 Arsenal have been tipped to make a summer move for 21-year old Dutch striker Vincent Janssen.
According to both the Mirror and the Telegraph, Arsene Wenger and his scouts have monitoring the AZ Alkmaar striker this season and are impressed with his technical skills and finishing abilities. Janssen has 26 Eredivisie goals to his name this season. He made his debut for the national team against England at Wembley in March, where he bagged a goal and an assist.
Janssen came through Feyenoord's youth academy but was released in 2013. He was picked up by Eerste Divisie team, Almere City, and only joined AZ last summer.
Wenger is on the lookout for a striker this summer with his current options proving to be inadequate. Theo Walcott's future with the Gunners is far from secure and it's possible Olivier Giroud could be on his way out as well. That would leave the club with only Danny Welbeck as the lone senior striker.
Wenger has been on the lookout for a world-class striker since 2013 when bids for Luis Suarez and Gonzalo Higuaín failed. Janssen is far from a world-class striker, but with a lack of such players available on the market, the manager may be interested in bringing in a player that will develop, along with an already proven striker.
Both articles mention Wenger's interest in Juventus forward Alvaro Morata and Zlatan Ibrahimovic who will be a free agent this summer. Both players fit the bill as proven players who could contribute immediately.
However, the legendary Swede would have to take a pay cut to join the club and would only be a short-term solution at a position that has needed an upgrade since Robin van Persie moved to Manchester United in 2012. Juventus have been adamant that Morata will remain at the club through next season.
https://www.youtube.com/watch?v=5i-4h9vmIJQ
It looks to be a busy summer for the North London club. Arsenal are reportedly in the market for at least a striker, center back, and central midfielder. Additionally, it is expected the squad will see a high turnover with Mikel Arteta, Tomas Rosicky, and Mathieu Flamini definitely set to leave. They could be followed by Walcott and Giroud, as mentioned above, as well as Alex Oxlade-Chamberlain, who has suffered a difficult season and is being linked to his old club, Southampton, although a move is unlikely.
Borussia Monchengladbach's Swiss midfielder, Granit Xhaka, has repeatedly been linked to the club over the past few weeks, and a summer transfer is expected. Leicester City's outstanding defensive midfielder, N'Golo Kanté has also been linked to Arsenal with reports circulating aof a £20 million transfer clause in his contract.
It appears that Wenger has identified the spine of his squad as the area that needs the most work. The team's spine has been the source of considerable criticism for quite some time now and many will lament the fact that the manager has just now decided it needs upgrading.
Nevertheless, better late than never and that's only if Wenger does manage to strengthen this area. No transfer has been made official yet, and everything up to now is pure speculation.