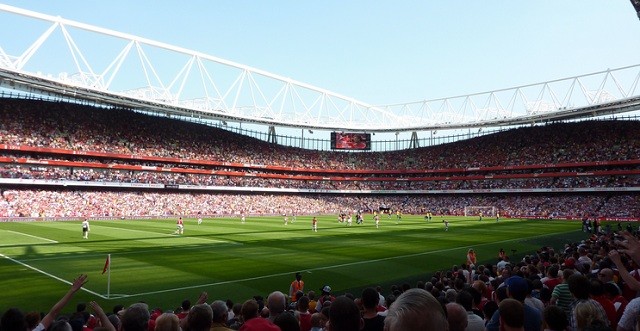 Arsenal take on Norwich City in a must win match at the Emirates. With a marquee matchup against Manchester City coming up next weekend, it is vital the Gunners keep pace with the Champions League semi-finalists.
Arsene Wenger has his entire squad available to him for the first time this year, but is unlikely to make many changes to his squad. Danny Welbeck will start at striker in place of Olivier Giroud, while Santi Cazorla and Jack Wilshere should make the bench as both players seek to regain fitness ahead Euro 2016.
Arsenal have been playing like a team already on vacation the past few weeks. They currently sit even with Man City on 64 points, good enough to be tied for third place. However, Manchester United sit five points behind both clubs and with a game in hand, could close the gap to two. With Arsenal and City playing each other, United have an opportunity to take over fourth place. Therefore it is imperative that Arsenal wins out to secure a Champions League spot.
Although the financial benefits of playing in the Champions League have been mitigated because of the Premier League's TV deal, it is an important variable in retaining and signing players.
Here is Arsenal's most likely starting lineup against Norwich City on Saturday.
Goalkeeper – Cech
Petr Cech retains his place in goal. He pulled off a number of good saves in the 2nd half to keep a clean sheet against Sunderland.
His experience and leadership will be vital in keeping the squad focused during the last three games, considering the team seems to lack motivation.
Right Back – Bellerin
Hector Bellerin's pace has been a threat for a few weeks, but his finishing product has been poor. His decision making, both defensively and offensively, is not up to par, and his crossing is lacking. Those attributes had been his strength earlier in the year, and were good enough to warrant him a spot on the PFA's Team of the Year.
Center Backs – Koscielny & Mertesacker
Laurent Koscielny and Per Mertesacker keep their places in the squad, meaning Gabriel finds a spot for himself on the bench.
Koscielny looks far more confident with Mertesacker next to him on the pitch and center back should be an area addressed this summer if Wenger has indeed lost confidence in Mertesacker's ability to contribute consistently for a full season.
Left Back – Monreal
Nacho Monreal returned to form last weekend with another solid display. His contributions in attack have been lacking lately, especially his usually reliable delivery.
Defensive Mid – Elneny
Mohamed Elneny did not look as comfortable next to Aaron Ramsey compared to when playing with Francis Coquelin, but it's a relationship he can grow into.
With Wilshere and Cazorla close to returning to fitness, it will be interesting to see how Wenger chooses to set up his midfield in the coming weeks.
Central Mid – Ramsey
Ramsey gets the nod ahead of Coquelin, although with Cazorla and Wilshere back in contention, it could soon be anyone's guess who starts in midfield.
Attacking Mid – Özil
Mesut Özil still lays only two assists away from equaling Thierry Henry's single-season Premier League assist season. His form has not dipped like some of teammates and he will play an important part in keeping Arsenal in the top four.
Wide Right – Alexis
Alexis was unable to extend his four game scoring streak last weekend. He still managed five shots, two of which were on goal, and one of them forced an excellent save from Sunderland's Vito Mannone via a well-taken free kick. He's clearly a man in form. Unfortunately, it's a little late for his club.
Wide Left – Iwobi
Alexi Iwobi had his first average performance since breaking into the squad against Barcelona in March. He still managed to exhibit a few moments of brilliance against Sunderland. He is a player of immense potential and is a conciliatory bright spot in Arsenal's end to the season.
Striker – Welbeck
Welbeck returns to the lineup after being mysteriously omitted last weekend for the out of form Giroud. It's possible Welbeck was being rested due to fitness fears over his previously injured knee. He still has yet to hit full fitness and hasn't completed a full match since returning from injury. Hopefully it was just a flare up, if his knee was indeed why Welbeck was held, and Wenger doesn't have to go back to Giroud, who "can't score right now."
(4-2-3-1)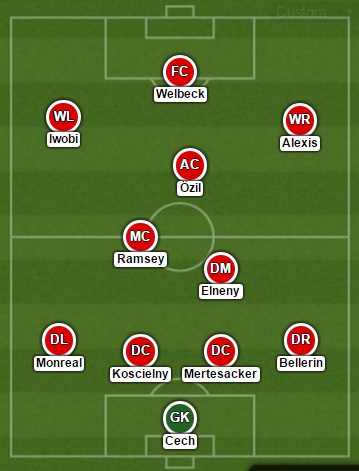 Via – Lineup Builder