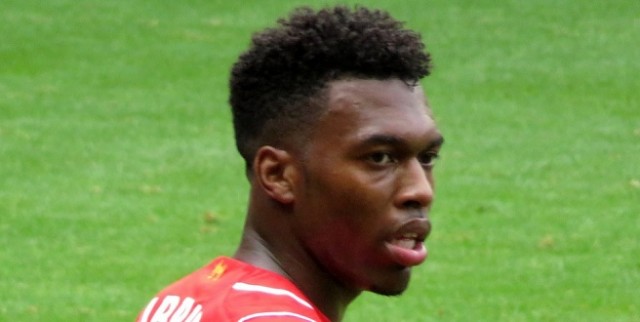 While Jurgen Klopp and Liverpool were unsuccessful in their attempt to win five matches in a row after a 2-2 draw with Newcastle, they have to move on and focus on their Europa League campaign.
It is now their best shot at getting Champions League football next season. Despite knocking out the best team in the competition in the last round, the path to the top doesn't get any easier since they now face La Liga's fourth-placed team in Villarreal.
Goalkeeper
Simon Mignolet cannot afford to make the same mistakes he did against Newcastle. The Belgian is still arguably the better choice than Danny Ward simply down to his experience but he cannot rely on the defense to bail him out anymore.
Right-Back
Nathaniel Clyne will be tasked with dealing with the young, but talented Denis Suarez. He didn't play against Newcastle but he will definitely make his return on Thursday.
Center-Backs
With Mamadou Sakho unavailable for the foreseeable future, Kolo Toure may be the player Klopp chooses to partner Dejan Lovren. Villarreal always employ two strikers so it is extremely important that the two Reds defenders communicate with each other.
Cedric Bakambu is the more dangerous striker between him and Roberto Soldado but both are more than capable of bagging a few goals.   
Left-Back
Alberto Moreno is finally coming into his own. While there are still a few defensive problems he has to work on, he is one of the best attacking full-backs in the Premier League. He always creates a few chances and his emergence has coincided with the recent uptick in offensive excellence the Reds have showed.
Midfield
With the midfield crisis that has occurred over the last few weeks, it is time for Joe Allen, Lucas Leiva to show their quality alongside James Milner. The two will be important in helping the defense deal with the Spanish attack while also maintaining possession.
The vice-captain has been magnificent in 2016, he has crossed the ball well and his leadership has been a major boost since the injury to Jordan Henderson.  
Right Wing
Adam Lallana has become a key player under Klopp and he is coming off scoring a fantastic goal. His high work rate makes him an ideal player for pressing and that is especially useful on the wing.
Forward
Daniel Sturridge is still the only healthy striker that Klopp can play but given his excellent form, it just makes sense to start him once again. While he shouldn't play the full match, he is still the most fearsome player on the pitch.
Left Wing
Philippe Coutinho was rested on Saturday so he should be more than ready to have a huge influence over this match. Despite his injury struggles earlier in the year, the tiny magician is still having his best goal scoring season in his career.
(4-3-3)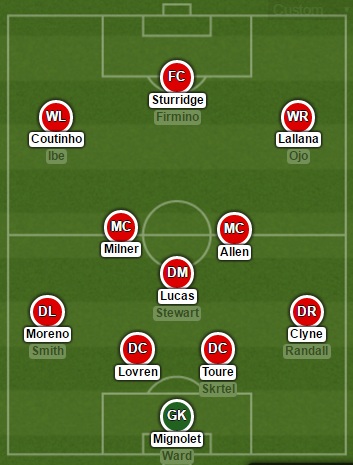 Via – Lineup Builder