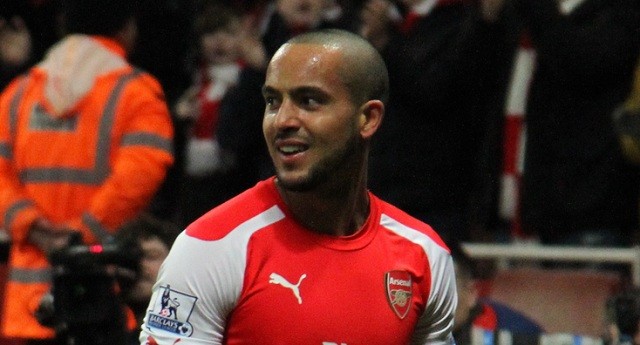 Theo Walcott has been an important player for Arsenal since he made his Premier League debut in 2006, but it appears that Walcott's run as an Arsenal player may soon be coming to an end.
Walcott has been reduced to mostly a bench player in recent partly due to the emergence of young Nigerian star, Alex Iwobi.  Walcott has found himself struggling for playing time, and he has not started a Premier League game since February 28 against Manchester United.
Even when Walcott has gotten playing time, he has mostly struggled to produce.  He only has 5 goals in the Premier League this season in 1344 minutes of play.  Last season he scored 5 league goals in only 442 minutes.  This is a major drop off in production, and it is no wonder that Walcott is starting to lose playing time.
Arsenal manager Arsene Wenger was noncommittal on the subject.  When asked if Walcott could return to the team next season he responded, "I don't know yet".
"I'm not in transfer mode at the moment but I think he has gone through a bad spell. He has responded very well, because he said: 'OK, I will work harder and more.' When he comes on now, you see he is motivated and focused. Let's see how well he finishes the season."
Walcott's incredible speed could still make him a useful substitute for Arsenal next season, and he could provide good cover in case of injury.  One of the major questions that could determine Walcott's future will be whether or not he wants to accept a bench role.
Another factor that could determine Walcott's future is that he signed a four year contract in July of 2015, and the Gunners are paying the striker about £140,000 per week.  That is a lot of money to be paying a backup player, so Arsenal could also have some incentive to try to move Walcott during the summer transfer window.
It seems that both sides may have incentive to part ways after this season.  If Walcott does indeed leave, he could still be a valuable piece to other teams.  He is only 27 years old and he should still have more productive years ahead of him.