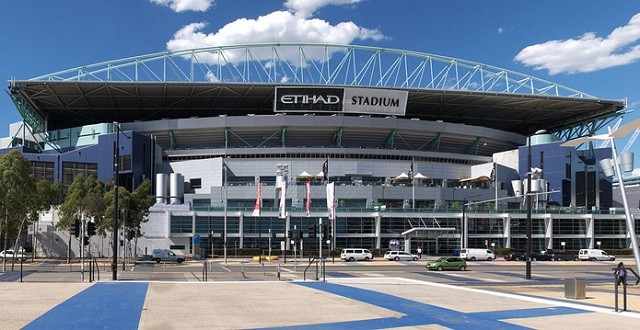 Despite some early surprises, La Liga race is still going strong. However, Real Madrid must change their focus to the UEFA Champions League. With possible injuries affecting the BBC, Manchester City will want to profit from the home advantage.
The ticket to the Milan final is at stake, so shining in the first leg could be very positive. This will be  a very complicated night for both teams.
Preferred Formation: 4-3-3
Until the very last training session, Zinedine Zidane will evaluate who's completely ready to play at the Etihad Stadium. Cristiano missed the Rayo game, Benzema left early and Bale was walking at the end of the match. Playing them if they're not well could make things worse. That's a huge risk to take, so this will certainly be a time when Zidane must prove what he's made of.
GK: Keylor Navas
His defense didn't help him out in the weekend's scare against Rayo Vallecano. He'll have top attackers in front of him, so his skills will be put to the test. He's done great this season in this competition so far.
Defense
RB: Dani Carvajal
He trained with his teammates on Sunday. Danilo is being effective in attack, but when it comes to defending, rivals are getting past him with ease. De Bruyne or Sterling are two men Real can't afford to give advantages to.
CB: Pepe
He didn't train with the squad on Sunday's session. His form has been off and on in the past weeks. Raphaël Varane isn't doing much better. The odds are 50/50 if the Portuguese fully recovers from his problems.
CB: Sergio Ramos
The captain rested on Saturday and is expected to return on Tuesday. He must really step it up now like he hasn't done in the rest of the season. The continued hiccups that are affecting the defense can't be repeated this late in the year.
LB: Marcelo
He didn't have a good afternoon at Rayo. This didn't become a huge problem, since Bale came to the rescue. Still, these are the semi-finals of a major tournament, so he should strive to do well, without relying on others to save the day.
Midfield
RCM: Luka Modrić
He had to come in after the hour mark to bring that final boost to revert the 2-2 scoreboard. His influence wasn't noticeable, as others like Vázquez and Bale took the control of the game.
CM: Casemiro
This match almost requires him to play. City's tough midfield will work hard to block Modrić and Kroos' creative attempts. Casemiro will have to do the same with the rivals and help the defense in every way he can.
LCM: Toni Kroos
Modrić and Toni were surpassed by Wolfsburg on that 2-0 loss. This time around, the opponents are a lot more dangerous and the stakes are higher. He needs to be omnipresent in attack and defense.
Attack
RW: Gareth Bale
The Welsh winger shined once again in Ronaldo's absence. He really has what it takes to be the leader of this team. After scoring the winning goal, we saw him walking very carefully on the pitch. Hopefully, it's nothing major.
ST: Karim Benzema
Like Bale, he was seen in the gymnasium on the first training session after the Rayo win. He'll  try his absolute best to make it, but Zizou won't force him if something doesn't feel right. It's not worth it.
LW: Cristiano Ronaldo
The competition's top goalscorer had to miss the last match, something he's not used to. Nevertheless, we saw him on the training ground on Sunday, so there's no reason to believe he will skip this crucial clash.
(4-3-3)