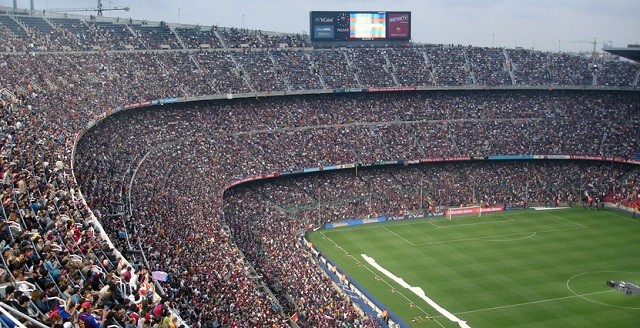 On Saturday, 23rd of April 2016, the current Spanish champions FC Barcelona will measure forces with a relegation threatened Real Sporting de Gijón at the majestic Camp Nou for Round 35 of the Liga BBVA.
FC Barcelona have finally returned to winning ways last Wednesday after hammering an inconsistent Deportivo de La Coruña at Riazor by a staggering 8-0. With Gerard Piqué on the stands due to suspension, Barça showed no mercy to the Galician team and opened the score very early in the match, when Luis Suárez netted in a corner kick by Ivan Rakitic.
Depor reacted well to the goal and missed two good chances to grab the equalizer when the Costa Rican midfielder Celso Borges, on two occasions, and Oriol Riera weren't able to place the ball inside Claudio Bravo's net.
The Catalan team, on the other hand, didn't waste the opportunity to increase their lead and Luis Suárez netted in a superb assist by Lionel Messi on minute 24'. Barça went half-time leading 2-0 and after the break they were even more lethal. The Blaugranas scored six goals and could have scored one or two more against a Deportivo de La Coruña, who lowered their arms after Ivan Rakitic netted the Catalan team third goal.
Luis Suárez's poker at Riazor last Wednesday, allowed him to break Ronaldo's record of 47 goals in one season that dated back from the 1996-97 season. The Uruguayan versatile striker have already netted 49 goals in competitive matches for Barça so far this season and he is now only one goal behind Real Madrid's Cristiano Ronaldo in La Liga's top scorer's list.
On Saturday, FC Barcelona will take on Real Sporting de Gijón at Camp Nou, a match that will surely have a special meaning for Luis Enrique, who was born in Gijón and who was "forged" as a football player in the team's great "furnace" of talented players back in the 1980s.
Barça cannot allow any more slipups if they want to win the Spanish league title once again, but the visitors are certainly hoping to get at least a point to help them in their fierce relegation battle. For that match, Luis Enrique, will still not be able to rely on the services of Mathieu, Sandro Ramirez and Vermaelen, who remain sidelined due to injury.
The visitors are on perilous situation at bottom part of the table, but had, nevertheless, managed to return to winning ways in the middle of the week, after overcoming Sevilla FC at El Molinón by 2-1. For the upcoming visit to Camp Nou, Abelardo Fernández, who represented FC Barcelona back in his playing days, will not be able to rely on the services of Alex Menéndez, Bernardo and Canella, who are all sidelined due to injury.
The last time both sides met at Camp Nou was in 2012 and back then Barça won by 3-1. The Catalan seem to have finally swept their ghosts to under the rug and are firm favourites to win next time out. This being said, this might be FC Barcelona's strongest line-up for next Saturday's match at Camp Nou.
Goalkeeper
Claudio Bravo got a clean sheet last time out after having conceded goals in four consecutive matches. The Chilean goalie will most surely be Luis Enrique's choice for next Saturday's match.
Defenders
Regardless of Marc Bartra's splendid goal against Deportivo de La Coruña last time out, Gerard Piqué will surely return to his usual work place next Saturday playing alongside Javier Mascherano, Jordi Alba and Dani Alves in the Catalan team's back line.
Midfield
Barça's usual midfield trio, Sergio Busquets, Andrés Iniesta and Ivan Rakitic, will certainly not be given any time to rest and will compose the team's midfield triangle in the match against the Asturian side.
Forward
Luis Enrique will probably not produce any changes up front either and, for that reason, Neymar, Luis Suárez and Lionel Messi will integrate Barça's attacking trident next Saturday.
(4-3-3)