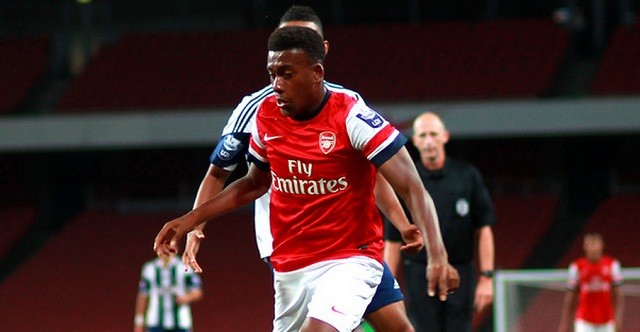 Arsenal takes on Crystal Palace in the late Sunday game at the Emirates Stadium. Arsenal find their selves in a position where mathematically they are still in the title, but realistically they are out. Right now, a third place finish is what the Gunners are fighting for and they have stiff competition from Manchester City and possible Manchester United.
Improvements must be made in the back four on Sunday, having let Andy Carroll score a hat trick last weekend within 50-minutes. Laurent Koscielny and Gabriel's inability to compete in the air and the wide men's neglectful defending, allowing crosses to come in too easily, hurt the Gunners. Crystal Palace may go with former Gunner Emanuel Adebayor upfront, to exploit that same weakness. Based off of his poor showing last week, Gabriel may take a backseat to Per Mertesacker.
Arsene Wenger spoke to the press and provided the team news. Jack Wilshere and Tomas Rosicky both came through their second game with the Under-21's unscathed and could be available next Thursday against West Brom, or Sunday against Sunderland. Both Alex Oxlade-Chamberlain and Santi Cazorla are a week or two away as both are still seeking fitness. The manager also has a decision to make over Petr Cech and indicated that the Czech keeper is not quite 100 percent yet.
It's unlikely Wenger will do too much tinkering to the squad, minus one possible change at the back. Here is Arsenal's most probable lineup against Crystal Palace. 
Goalkeeper – Cech
While it's very possible David Ospina could start once again because of Cech's fitness levels, it may be worth putting Cech's health at risk. The Czech international is not far away from being 100% and could play if forced.
Ospina's inability to command the area and collect crosses also played a role in last weekend's debacle. At the same time, Cech's injured calf may prevent him from being able to do the same. At this point we're guessing and Wenger is the best placed person to make the right decision.
Right Back – Bellerin
Hector Bellerin will look for a bounce back performance on Sunday. Bellerin had a difficult day last Saturday and was at fault for letting crosses in too easily.
Center Backs – Mertesacker & Koscielny
Wenger is likely to go back to the Mertesacker-Koscielny partnership. Although Mertesacker has regressed this season, this partnership is slightly bettered balanced because both players' strengths cover the other player's weakness.
Gabriel's performance last weekend was poor and he simply does not deserve to start this weekend.
Left Back – Monreal
Nacho Monreal had his first poor performance of the season. West Ham's right-winger, Antonio, tormented Monreal with his pace all match. Like Bellerin, Monreal had difficulty preventing crosses from coming in and an improvement is necessary this weekend.
Defensive Mid – Coquelin
Francis Coquelin resumes his partnership with Mohamed Elneny. It would not be surprising to see Aaron Ramsey come on in place of Coquelin in the 2nd half to give Elneny and Ramsey an opportunity to play together. That will likely depend on the score though, and if Arsenal find their selves behind, this will be the first substitution the manager makes.
Central Mid – Elneny
Elneny is turning into a shrewd signing by the manager. His impact on the team the past few months has been impressive. He seems like a player who could play with a variety of types of midfielders, considering his very broad skill set. For example, pairing him with Wilshere, or Ramsey, or Cazorla in the middle of the pitch seems very plausible because of his passing ability, positional awareness, and willingness to defend.
Attacking Mid – Özil
Mesut Özil was named on the six-man shortlist for PFA Player of the Year. Although he is unlikely to win because the inspiring performances of Jamie Vardy and Riyadh Mahrez, he would be deserving of the award in other seasons. For what it's worth, Wenger believes Özil is worthy of the award.
Still only two assists away from breaking Thierry Henry's single-season assist record, Özil has a lot to play for the next few matches.
Wide Right – Alexis
Alexis scored a well-taken goal against West Ham thanks to an excellent through-ball from Alex Iwobi. Other than that, the Chilean had a hard time making an impact on the match.
The move to the right of the pitch has freed Alexis a bit, but he still hasn't reached the heights of last season.
Wide Left – Iwobi
Iwobi put in another impressive performances last weekend; collecting two assists and finishing the match in central midfield. Iwobi has an incredibly bright future ahead of him and he is a reason to keep watching Arsenal the rest of the season.
Striker – Welbeck
Danny Welbeck worked hard but couldn't make an impact against West Ham. His movement and relationship with Iwobi continues to be impressive and he will keep Olivier Giroud out of the squad for the foreseeable future.
(4-3-3)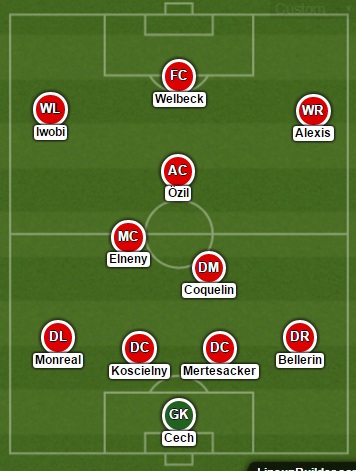 Via – Lineup Builder