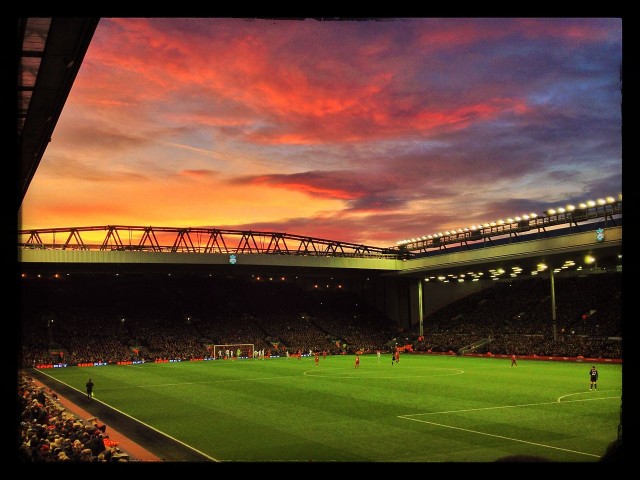 Despite making a number of changes to the lineup in preparation for the second leg of the team's Europa League tie with Borussia Dortmund, Jurgen Klopp and Liverpool were able to smash Stoke City 4-1. It was the perfect result for the Reds to get before the big match on Thursday since it gives them a big confidence boost.
Since the first match in Dortmund ended 1-1, Liverpool come into the match needing just a draw to get to the next round through the away goals rule. Still, the Liverpool players should be playing to win; Dortmund features a lot of world-class players who won't go out without a fight.
Goalkeeper
Simon Mignolet hasn't had a clean sheet since early March and it is unlikely that he will be able to get back on track against the German club but he almost had one in Dortmund.
He has to find a way to organize his back line better when defending set pieces or he has to be more assertive in trying to deal with the ball before the Dortmund players have a chance to attack it.
Right-Back
Nathaniel Clyne will be facing Marco Reus once again and even if the Englishman held his own in the first meeting, he has to psych himself up for a more difficult evening on Thursday.
Center-Backs
Both Dejan Lovren and Mamadou Sakho were rested at the weekend so they should be raring to go on Thursday. They handled Pierre-Emerick Aubameyang well enough in the first leg, but given his talent and goal-scoring ability, they can't lose focus for even a second.
The one they really have to work on is getting everyone ready to defend set pieces. The Reds' inability to defend corners and free kicks have led to two goals over the last two games and with Dortmund going all out for this second leg, they won't waste any opportunity to score.
Left-Back
Alberto Moreno was able to burst forward and get a goal against Stoke City but he won't have that freedom in this match. The Dortmund wingers are too dangerous for Moreno to stay up the pitch and they will exploit any space he leaves behind.
Midfield
With Jordan Henderson out for the rest of the season, Joe Allen, Emre Can and James Milner will be the trio tasked with pressuring the Dortmund midfield.
All three are more than capable of balancing defensive duties and assisting the attack. Milner is particular has been in tremendous form with three assists in his last two matches and things are looking great for the replacement captain.
Right Wing
Adam Lallana has become a fixture in the lineup during the second half of the season and his work rate will be useful in helping Clyne deal with Reus.
Klopp could choose to start Roberto Firmino instead and either player should be able to give a good performance. It's just that Lallana is arguably more well rested.
Forward
Divock Origi has been a revelation over the past two matches and it certainly won't be surprising if he gets another start on Thursday. His ability to hold the ball up and track back makes him a better fit for this system than Daniel Sturridge and Klopp has to take advantage of the form he is in.
Klopp could definitely start both Origi and Sturridge but given the focus on pressing and controlling the pace of the match, keeping Sturridge as a super-sub is the better option.
Left Wing
Philippe Coutinho was rested on Sunday in preparation for this match. He is nearly unstoppable when he is on form and he is more than capable of scoring a great goal out of nowhere. He should have scored in the first leg so he will be motivated to get one past Roman Weidenfeller.
(4-3-3)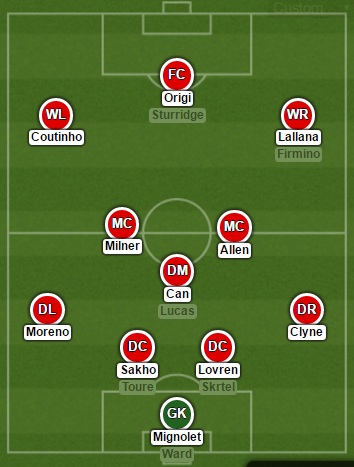 Via – Lineup Builder