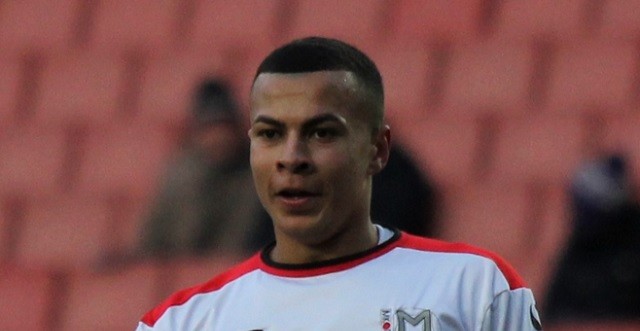 Tottenham Hotspur midfielder Dele Alli turned 20 yesterday and it's certainly been a hectic year for the young Englishman. Here are some of the greatest moments in the past year of his young career.
How times flys, Feels like just yesterday I was 19

— Dele (@Dele_Alli) April 11, 2016
Alli debuts for Tottenham
Just over a year ago Alli was playing League One football for Milton Keynes Dons. On August 8th he made his Premier League debut coming on for Eric Dier in the last thirteen minutes of Tottenham's first match of the season against Manchester United.
Alli's first Tottenham goal.
Alli put away this ball from Christian Eriksen in a 1-1 draw against Leicester City back in August. It was the first of many to come. Currently he has eight goals in a Tottenham jersey.
Alli scores on his debut for England
On November 17th Alli made his debut for Roy Hodgson's England squad in a friendly against France. Alli won the ball in the midfield and would get it back only to send a ball screaming into the top left corner past Tottenham teammate Hugo Lloris to open up the scoring and give England. It would arguably have been Alli's best goal if he hadn't done this in January.
Congratulations to @Dele_Alli on signing his new contract with @SpursOfficial. Now watch his goal vs France againhttps://t.co/7kBeFgLHdD

— England (@England) January 12, 2016
Alli scores goal of the season against Crystal Palace
In a tight match against Crystal Palace back in January, Alli took matters into his own hands to grab three crucial points for Tottenham. He scored what is arguably the goal of the season.
Words don't do this goal justice.
We couldn't let @Dele_Alli's birthday pass by without another look at this… #COYShttps://t.co/GZI5tIL9xm

— Tottenham Hotspur (@SpursOfficial) April 11, 2016
Alli wins Young Player of the Year
Alli picked up the award back in March at the London Football awards. He beat out his fellow teammate Eric Dier, Arsenal's Hector Bellerin, Charlton striker Ademola Lookman, and Fulham's Moussa Dembele. He's not the first Tottenham player to win the award as his teammates Harry Kane and Kyle Walker won the award, while Real Madrid midfielder Gareth Bale won the award while he was at Tottenham
It's been an incredible year for Dele Alli and the sky's the limit for the 20-year old. He looks to be a lock in for Hodgson's England squad for Euro 2016 and prepared to become one of the elite players in the Premier League — if he isn't one already.
What do you think is next for Dele Alli?