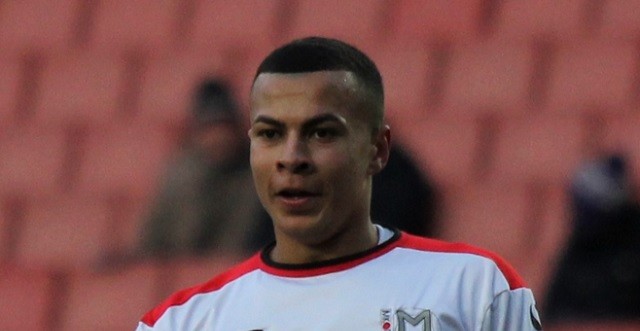 Tottenham Hotspur have a big match this Sunday as they take on Manchester United at White Hart Lane
Tottenham are currently sitting in second in the Barclays Premier League trailing leaders Leicester City by seven points. Manchester United on the other hand are sitting in fifth place looking to climb into the top four.
They're one point behind fourth place Manchester City. If Tottenham want any chance of overtaking Leicester City, then they need these three points. Manchester United also need all three points if they want Champions League football next season.
Tottenham manager Mauricio Pochettino said Erik Lamela will be back after missing last match due to injury. Jan Vertonghen will have to pass a late fitness test to return to action after missing three months with a knee injury.
With that being said, here's the lineup I think Pochettino will be rolling with.
Goalkeeper
Hugo Lloris – The Frenchman has arguably been the best goalkeeper in the Premier League this season. It should be a good battle between Lloris and United goalie David de Gea.
Defence
Since Tottenham's last match was a week ago, Pochettino will not be rotating fullbacks like he did earlier in the season. That means Kyle Walker will be the right back while Danny Rose will be on the left.
As for the centre-backs I believe Toby Alderweireld and Kevin Wimmer will be starting. If Vertonghen does pass his fitness test I wouldn't be surprised if Pochettino goes with the Belgian duo. Both will look to shut down United youngster Marcus Rashford.
Midfield
Eric Dier will line up just above the fullbacks as the holding midfielder while Mousa Dembélé will be above him in the pivot. It will be interesting to see how the two deal with United's midfield.
In the attacking midfield Christian Eriksen will be the centre attacking midfielder with Dele Alli to his left. Lamela returns to the starting lineup and will be on his right. United's defence has struggled at times this season. I think Lamela with his work rate could really do some damage on that right flank. United back Marcos Rojo was rather poor for them last outing against Everton.
Striker
Harry Kane will lead the lineup for Tottenham being named Barclays Premier League player of the month. De Gea was able to keep Everton star Romelu Lukaku off the scoresheet last week and will certainly hope to keep Kane at bay also. United centre-back Daley Blind who did a fantastic job shutting down Lukaku last week will look to keep his good run of form and shut down the Premier League's leading scorer.
This a crucial three points on the line for both squads. United have looked to recover winning four of their last six matches after a horrendous start to the season. They've also won back to back matches against Spurs. However with Tottenham playing so well at the Lane this season I think they take all three points. It will be an exciting, close match however and is one fans shouldn't miss.
Whats your starting lineup for Tottenham and what do you think the result will be?