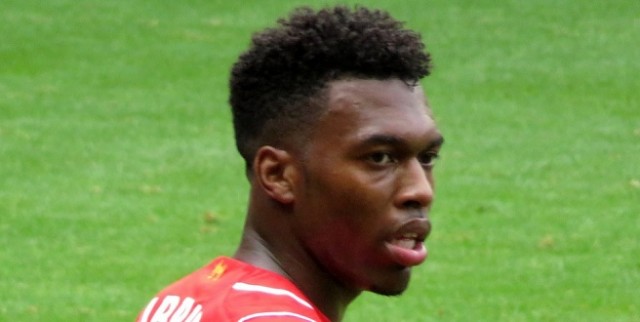 Jurgen Klopp and Liverpool face one of the toughest opponents they've had all season when they travel to the Signal Iduna Park to face Borussia Dortmund in the Europa League.
This is the first time Klopp has returned to Dortmund since leaving the club last year and there will no doubt be some emotions when the match kicks-off.
Even if Klopp has been able to make his players perform well in big matches, Dortmund are a completely different team than what the Reds are used to facing. Just look at what they did to Tottenham over two legs in the last round of the competition.
Goalkeeper
Simon Mignolet will be facing one of the top attacking sides in the world. While it is unlikely that he keeps a clean sheet in Germany, he will have a lot of opportunities to show his shot-stopping ability against top-level competition.
Right-Back
Going up against Marco Reus could be the hardest assignment Nathaniel Clyne has had this season. As great as Clyne has been all year, Reus is still a world-class player who is unstoppable when he is on his game.
Center-Backs
It's a tough week for Dejan Lovren and Mamadou Sakho, they go from marking Harry Kane to having to deal with one of the hottest strikers in the world in Pierre-Emerick Aubameyang. Both Lovren and Sakho have the ability to try and handle Aubameyang, they just need to be more consistent since they haven't had great performances at the same time.
Left-Back
Just like Clyne, Alberto Moreno will have a really difficult task since he will be dealing with Henrikh Mkhitaryan. Mkhitaryan has arguably been Dortmund's most complete player this season and Moreno will really have to focus on the defensive side of his game.
Defensive Midfield
Jordan Henderson had a great performance against Tottenham and hopefully he continues that form on Thursday. With Emre Can suspended for the next two Premier League matches, he should be putting all his energy on the Europa League games.
Attacking Midfield
With Roberto Firmino still unavailable, James Milner, Philippe Coutinho and Adam Lallana will probably start behind the striker. Even if he isn't the most creative player out there, Milner's energy will allow him to help Clyne deal with Reus. Coutinho and Lallana have been tearing defenses apart recently but they will be tested by the tough Dortmund back line.
Forward
Daniel Sturridge hasn't looked at his best in a while but he is still the biggest goal-scoring threat for the Reds. The best way for him to return to form is to simply keep playing and working through his issues. He likely won't play in the weekend match so he should be able to fully focus on playing well against the Germans.
(4-2-3-1)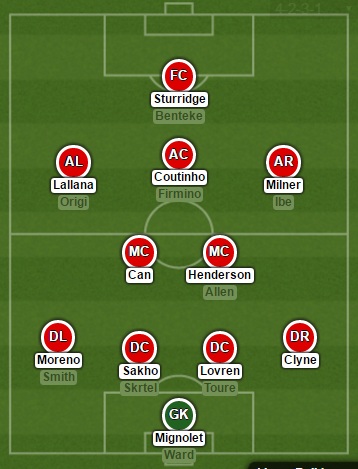 Via – Lineup Builder