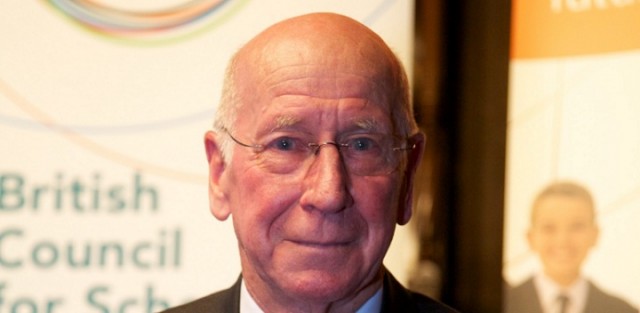 Old Trafford's South Stand will be renamed after United legend Sir Bobby Charlton at Sunday's fixture against Everton, and ahead of the tribute planned, United coach Louis Van Gaal has described the former Red Devil star as one of his boyhood idols, according to United's official team site.
Sir Bobby Charlton, now 78 years old, had an illustrious career with United, and the attacking midfielder scored 199 goals in 608 appearances for the club between 1956 and 1973. Van Gaal and Charlton first met in 2014, when the 1968 European Cup winner welcomed him at the Theatre of Dreams following his official appointment as United's manager.
The Dutchman spoke of his respect for the United star and thanked him for his support and contribution to the club after meeting him and his wife in person ahead of Sunday's tribute.
Van Gaal added: "Now I have met him personally. He is such a kind, friendly man and his wife is also very nice and friendly. I am very proud that he should get such an honour [as his own stand] because not many clubs are doing that and I am very pleased for him."
United's coach Van Gaal has faced mounting criticism this season from fans for a disappointing campaign, but with a strong finish, United could still grab a Champions League spot and the FA Cup trophy. Former manager Sir Alex Ferguson came out recently in support of the Dutch coach and asked fans to be more patient while Van Gaal does his job.