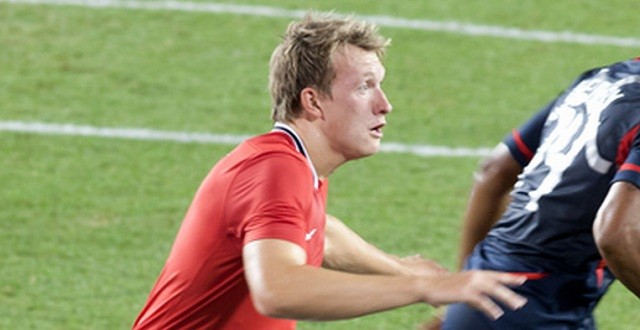 Manchester United defender Phil Jones has been declared fit for second team action by manager Louis Van Gaal.
The 24 year-old defender has been missing in the senior side since the beginning of January after suffering an ankle injury in a home game against Swansea.
Coach Van Gaal believes the defender is close to being fully recovered, saying "Phil Jones is fit to play in the second team" according to the official team website.  Jones will not be included in the Premier League fixture against Everton on Sunday due to lack of recent action.
Jones was on the pitch recently in second team action against Norwich, but did not play the full ninety minutes. In the next U21 side fixture against Chelsea, Jones will have a chance to prove that he is match fit once more, and with an inspired performance, Van Gaal would likely include him in United's eight remaining fixtures.
Wayne Rooney is also on the recovery, according the site, and may also been included in the second team, along with Jones, before a full return to Premier League competition. With eight league fixture left, United are in the hunt for the final Champions League spot and are still alive in the FA Cup , where they will face West Ham in the semi-finals.