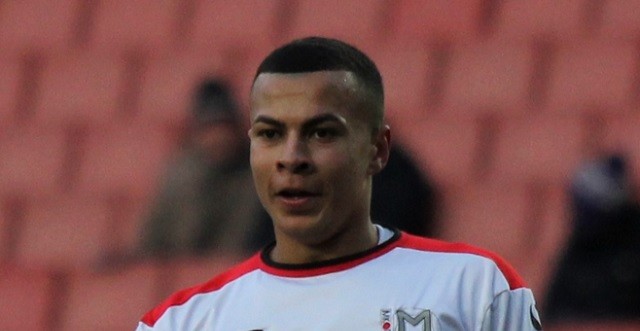 After the International Break, Tottenham are set to return to action on Saturday as the Lilywhites take onLiverpool at Anfield.
Manager Maurico Pochettino's side are currently sitting in second place in the Premier League and look to close the gap between themselves and first place Leicester City. Liverpool are currently sitting in 9th place and while manager Jurgen Klopp's side have looked amazing at times, for most of the season they've been inconsistent. Tottenham on the other hand look to be hitting their stride with the final stretch of the season coming up.
Both Klopp and Pochettino are going to field sides that press high. Pochettino presses all the way to the goalie where as Klopp just has his team press to the oppositions backline. Roberto Firmino is doubtful to play on Saturday as he's dealing with a hamstring injury, which is a big blow to Liverpool. Pochettino said Jan Vertonghen is close to returning while Clinton N'Jie is still away. Nabil Bentaleb is also injured after having surgery on his knee.
With that being said here's the lineup I think Pochettino fields.
Goalie
Hugo Lloris – There's been rumours surfacing recently about the French keeper returning to his old club Lyon, but Lloris was quick to shoot that down. The Frenchman will be in net on Saturday.
Defence
Kyle Walker will be the starting right back after returning from International duty. Toby Alderweireld and Kevin Wimmer will be the starting centre backs. Even though Vertonghen is close to returning, Wimmer has been playing extremely well in the Belgian's absence and is in great form right now.
For those reasons, and also Vertonghen isn't probably fully fit, Wimmer will start. Daniel Rose started for England against the Netherlands and also played against Germany earlier. I think Pochettino gives Rose a rest and Ben Davies gets the start.
Midfield
Eric Dier, who scored a brilliant goal against Germany, will sit above the centre backs as the holding midfielder. Mousa Dembélé will be in the pivot and he must have a good performance if Tottenham want to win. His physicality and ball control make him a hard player to contain so he could do some damage to Liverpool like he did against them earlier in the season.
Christian Eriksen will be above Dembélé as the centre attacking midfielder while he'll have Dele Alli to his left and Erik Lamela on his right. All three of these players are returning from international duty so their fitness may come into question but they'll be ready to get after Liverpool's backline.
Striker
Harry Kane – the leading goal scorer in the Premier League will look to add to that number on Saturday against Simon Mignolet, who has been questionable at times for Liverpool.
This one is going to be a physical, scrappy match and I wouldn't be surprised if it ends in a draw. However having no Firmino is a big blow to Liverpool and Tottenham will take advantage of that. Leicester City have a tough match against Southampton so Tottenham need to win to keep in the race for the Premier League title.
What do you think the result will be and whats your strongest lineup for Tottenham?
(4-2-3-1)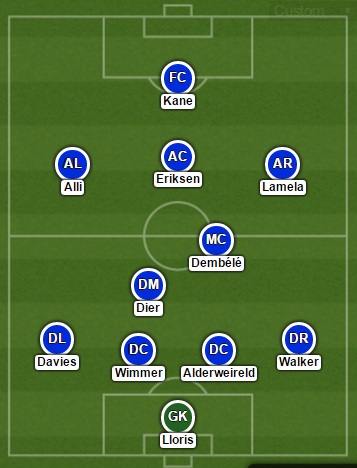 Via – Lineup Builder