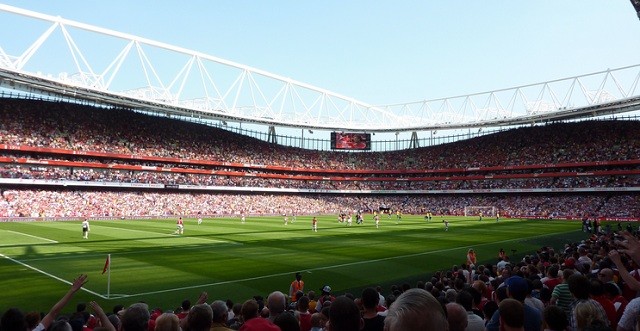 Arsenal return to action after the international break with a chance at redemption against Watford who knocked the Gunners out of the FA Cup a few weeks ago.
The last time these two teams met Watford labored to a deserved 2-1 win at the Emirates Stadium, ensuring Arsenal would not be the first team since Blackburn Rovers in the 19th century to win the FA Cup three times in a row.
Arsenal are on the back of an impressive 2-0 away win against Everton. Their midfield was well balanced with the encouraging partnership between Mohamed Elneny and Francis Coquelin, while their attack showed zest with the pace of Danny Welbeck, and incisiveness of Alex Iwobi.
Speaking ahead of the match, Arsene Wenger was able to deliver some mixed news regarding the status of a few injured players. Petr Cech is set to undergo tests before Saturday's match, but based on the manager's tone the Czech international is likely to make a return to the squad after missing the past three weeks with a hamstring injury. Jack Wilshere is back in full training for the first time this season, as is Tomas Rosicky. Both players could be available in a few weeks.
Unfortunately, Santi Cazorla has been ruled out for at least another month and his participation in the Premier League this season, and possibly Euro 2016, is in question. Aaron Ramsey and Mathieu Flamini all appear to be a week away from returning, while Alex Oxlade-Chamberlain could be back in two. 
Arsenal lie 11 points behind league leaders Leicester City, but with eight matches to go and a game in hand, the Gunners can't give up on the title. Wenger agreed that the odds are not in their favor, but he insisted that all the club can do is take every game one at a time and sustain belief until mathematically impossible. That was a message he wanted to make clear to Mesut Özil, who made comments about the clubs general failures this season.
The next eight matches have to be handled as if they are cup finals and the first one starts this Saturday. Here is Arsenal's most probable starting lineup. 
Goalkeeper – Cech
Cech is not a lock to start this weekend, but all indications point to his inclusion in the squad. David Ospina has played well in the Czech international's absence and would easily slot back in the starting eleven if needed.
Right Back – Bellerin
Hector Bellerin looked to benefit with Alexis playing in front of him recently. The Chilean's knack for drifting into the center of the field often drags fullbacks away from their position, which leaves space for the pacey Bellerin to exploit.
Center Backs – Gabriel & Koscielny
Gabriel and Laurent Koscielny get the start with Per Mertesacker relegated to the bench. Gabriel has clearly usurped the big German in the starting eleven. The Koscielny-Gabriel partnership is a faster center back pairing that provides Arsenal with better recovery ability, compared to a lineup with Mertesacker.
Left Back – Monreal
Arsenal's most consistent player this season, Nacho Monreal, did not represent his nation over the break. He returns to the squad refreshed and charged for a strong finish to the season.
Monreal and Iwobi have not played much together this season, but Iwobi's playmaking ability may compliment Monreal's style better than the more direct and at times selfish Alexis.
Defensive Mid – Coquelin
Coquelin had an excellent game against Everton. He made 12 interceptions and 15 ball recoveries, putting in by far his best performance since sustaining an injury in November. Playing next to Elneny, who is comfortable with the ball at his feet, has played a role in Coquelin's improved performance and the two sustain balance in the center of the park for Arsenal.
Central Midfield – Elneny
After helping Egypt qualify for the 2017 African Cup Nations, Elneny will look to continue his impressive form after putting in consecutive notable appearances through March. Wenger will have an interesting squad selection choice to make once Ramsey returns to fitness.
Attacking Midfield – Özil
Özil took and scored a penalty against Italy this past week for the first time since his infamous miss against Bayern Munich two years ago.
The German has been vocal in the media this past week, admitting Arsenal have only their selves to blame for being in the position they are in. Frankly, it's encouraging to hear Özil make those statements as he assumes blame as well. In many cases, a player of Özil's status could easily blame his teammates and force a move out of the club – a scenario Arsenal are too familiar with. However, he cannot let his head drop as the season is not yet over.
Özil is key to how Arsenal finishes the season.
Wide Right – Alexis
Alexis starts on the right after putting in improved displays in this position against both Barcelona and Everton. His preference for his right foot ensures he uses the full width of the field when playing on the right, making his play less predictable compared to when he plays on the left and constantly cuts inside.
Although his scoring form is lacking, he has racked up a couple assists in the past few games. If he can at least contribute in a playmaking role, players like Welbeck could benefit.
Like Özil, Alexis is key to how Arsenal finishes the season.
Wide Left – Iwobi
Iwobi made his first competitive appearance for Nigeria this past week, sealing his international future. He had appeared in two friendlies for the Super Eagles, but those appearances did not bind his international allegiance.
Unfortunately for him, Nigeria did not qualify for the 2017 African Cup of Nations with a loss to Egypt. Good news for Arsenal who won't lose a player for up to eight weeks in the middle of next season, but bad news for a young player who is just starting to show his potential.
With Iwobi on the left, Arsenal have a second playmaking option who also possesses pace and finishing abilities.
Striker – Welbeck
Welbeck looks a different player since returning from a serious knee injury, and according to Wenger, the changes are entirely mental.
Welbeck started England's match against Germany in Berlin and played well. He was seen with a giant ice pack on his recently repaired knee after the match, which led many to question the player's overall fitness. For now, as long as Welbeck has a week off between matches, he should be fit enough to start.
Welbeck's pace and mobility have opened up Arsenal's attack and seemed to free players like Özil and Alexis. The Englishman has an excellent understanding with Iwobi and the duo's movement complement each other well. Welbeck's finish to score Arsenal's first goal against Everton two weeks was impressive and showed a clinical side to him that was missing before his injury.
If Welbeck can add consistent finishing to his skill set, he could be one of the Premier League's leading strikers. Not many strikers suddenly improve their finishing at the age of 25, but Wenger refuses to rule out that possibility with Welbeck.
(4-3-3)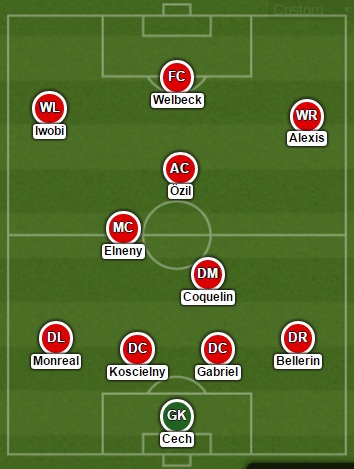 Via – Lineup Builder