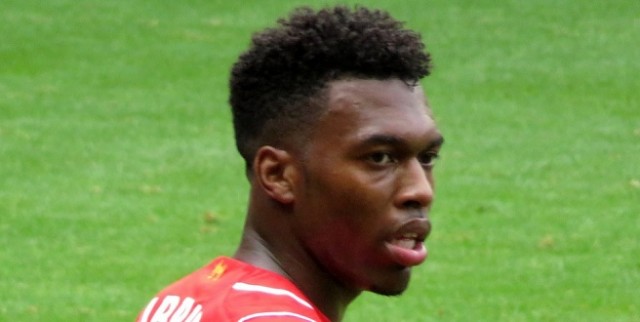 Jurgen Klopp and Liverpool return from the international break with a difficult match against title contenders Tottenham. It is not an ideal return for the Reds since they are coming off a terrible collapse in their last match when Southampton came from down 2-0 to win 2-3.
Still, this is a must win for both sides, Tottenham cannot afford anymore mistakes in their quest for a title while Liverpool are still hanging onto the very slim chances of getting Champions League qualification.
Goalkeeper
It is almost guaranteed that Tottenham will create a few great chances, it will be up to Simon Mignolet to prove that he is good enough to stop them. While he certainly wasn't completely at fault for the collapse at Southampton, it didn't do him any favors.
Right-Back
In a match as big as this one, it's always good to have someone who doesn't get rattled easily like Jon Flanagan out on the pitch. Flanagan is a player who plays well in big matches and he could be facing one of his bigger tests in Dele Alli, arguably one of the most in-form players in the league.  
Center-Backs
Dejan Lovren and Mamadou Sakho are guaranteed to be the first-choice pair in the middle of the defense after Martin Skrtel's horrendous performance after coming on as a substitute against Southampton.
The two of them will have to figure out a way to keep the Premier League's best attack at bay. They have the physicality to match Harry Kane, they just can't afford to let him get into dangerous positions.
Left-Back
Nathaniel Clyne has proven that he can play on either flank and his defensive ability is needed more than Alberto Moreno's skill at going forward. Clyne may catch a break if Erik Lamela misses the match but almost every player on the Tottenham squad is capable of producing a bit of magic.   
Defensive Midfield
The pair of Jordan Henderson and Emre Can will have the unenviable task of trying to control the middle of the pitch against one of the strongest midfields in the league. It would be the perfect time for Henderson to return to form since Can has overshadowed him over the last few games.
Attacking Midfield
With Roberto Firmino likely to miss the match, Klopp will probably go with James Milner, Philippe Coutinho and Adam Lallana as the three creative players.
Milner and Lallana should fly all over the pitch with their energy but they will need to make sure that they help Coutinho as well since he will have a hard time with the physicality of Eric Dier and Mousa Dembele.  
Forward
Liverpool fans will be breathing a sigh of relief since Daniel Sturridge was able to escape the break without picking up a knock.
He is still the most dangerous player that the Reds have and his presence on the pitch opens up a lot of space for his teammates. Klopp could also pair Sturridge with Divock Origi up top after they played very well together against Southampton.
(4-2-3-1)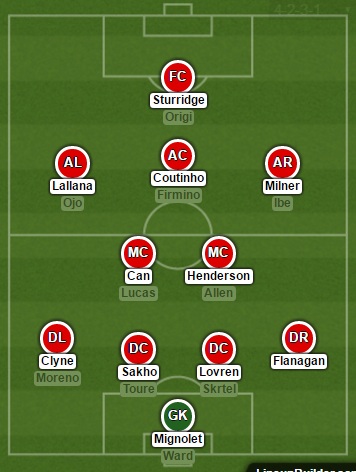 Via – Lineup Builder