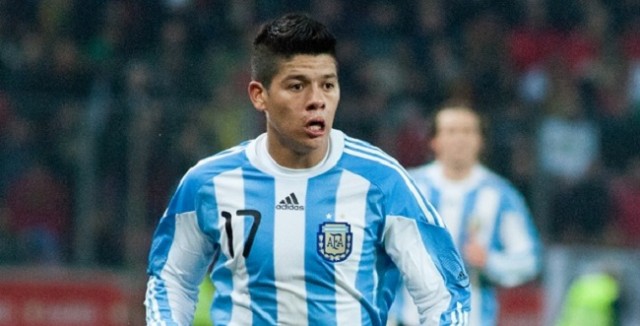 Argentine national and Manchester United defender Marcos Rojo is planning three more years at Old Trafford before an eventual return to Argentina to play for Estudiantes in 2019, according to reports from British paper the Daily Star.
Rojo, 21 and a defender for Man Utd as well as the Argentine national squad, has been at the club for less than two seasons, and after reports that Van Gaal wants to sell him in the transfer market, has now publicly announced that he has other plans.
Originally bought from Portuguese side Sporting Lisbon for £16m, the young defender has struggled with a dislocated shoulder and other injuries, though he now seems set to finish the season as part of Van Gaal's starting eleven.
United coach Van Gaal has reportedly tried to send Rojo to French club Monaco, but eventually gave up on the idea, and assured the player he would be a starter for the rest of the season. Even with a strong performance in the remaining eight league fixtures, who knows what kind of role would be available for him when likely new coach Jose Mourinho is calling the shots next season.