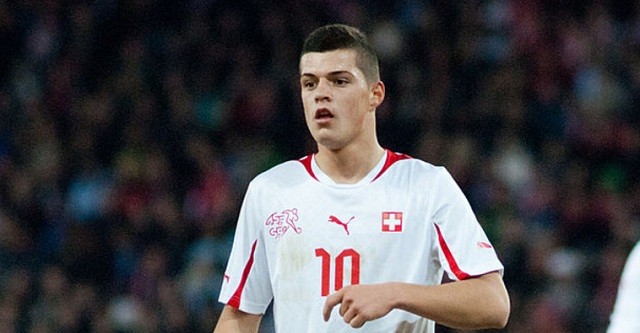 According to Sky in Germany, Arsenal are closely monitoring the progress of Borussia Monchengladbach's Swiss midfielder Granit Xhaka.
Per the report, Xhaka's father met with Arsene Wenger to discuss a possible move to North London. The Gunners are reportedly prepared to bid approximately €43 million for the Swiss international.
Xhaka signed for Monchengladbach from F.C. Basel in 2012 and is contracted to the club until 2019. Despite disciplinary problems – he's been sent off three times this season and another three the past two seasons – he's already made 100 appearances in the Bundesliga at the young age of 23. Xhaka is also a prominent member of the Swiss international team and is slated to play a large role in Euro 2016.
Arsenal will be on the lookout for midfield reinforcements with high squad turnover expected this summer. Tomas Rosicky, Mikel Arteta, and Mathieu Flamini all have expiring contracts and are expected to leave this summer.
Jack Wilshere will remain at the club, but his role in the squad will have to be reconsidered and he may be viewed as a "luxury player" considering his injury history. Santi Cazorla is 31 and will have to be replaced within the next two years, especially considering the now annual rumblings from Spain claiming Cazorla's desire to eventually return to his homeland.
That leaves Arsenal with Aaron Ramsey, Francis Coquelin, Mohamed Elneny, Mesut Özil, and possibly Alex Oxlade-Chamberlain and Alex Iwobi, as the club's senior central midfielders. Youngsters like Jeff Reine-Adelaide, Ainsley Maitland-Niles, and Gedion Zelalem could possibly make the big step up to the senior team.
With injuries effecting midfield depth this season, Wenger has had trouble finding the right chemistry and balance in midfield. Cazorla, Rosicky, and Wilshere are the only players in the squad capable of dribbling their selves out of trouble from within their own half. There absences have hurt Arsenal, although Elneny has shown some capabilities in that area.
Ideally Arsenal purchases an additional midfielder with those qualities, especially considering Rosicky's impending departure and Wilshire's health, along with a defensive midfielder. Xhaka is often deployed in a deep midfield role and would fulfill the defensive midfielder need.
His 84.8% passing accuracy in all competitions this season, according to WhoScored.com, indicates he could be more than just a robust midfield presence. The problem is, that statistic does not indicate the level of difficulty of those passes.
If Xhaka does prove to be a skilled passer of the ball, he could be an excellent partner for Ramsey, who thrives with alongside a midfielder with vision and positional astuteness à la peak Arteta. Xhaka may be the answer to Arsenal's dysfunctional midfield.
€43 million is a high price to pay for a player who may or may not improve midfield chemistry. If you believe the hype and praise coming Xhaka's way, he may be worth it.