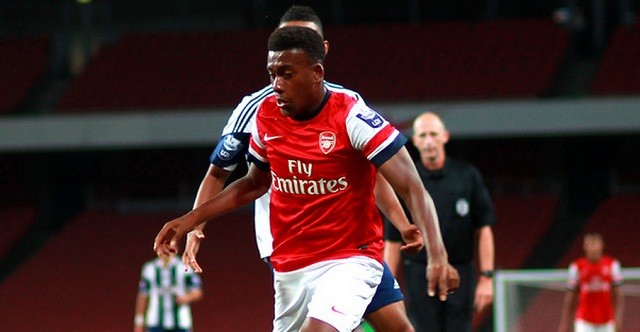 Arsenal prospect Alex Iwobi has been making headlines recently for all the right reasons.  The young rising star has recently received high praise from his manager Arsene Wenger, and now from former Arsenal legend Thierry Henry who has worked with Iwobi in training.
Henry described Iwobi as a player with great spirit and a great attitude saying, "Iwobi plays with a smile on his face, he's never late for training and he is a conscientious young man.  You might expect that to be a given for any young footballer but sadly that's not the case in the modern game".
In addition to his positive attitude and desire to get better, Henry admired Iwobi's physical talents.  "He's got pace, he's athletic and he looks a real prospect."
Iwobi made his first Premier League start for Arsenal this weekend against Everton, and the youngster scored his first Premier League goal to help propel the Gunners to a 2-0 victory.
With the hype around Iwobi continuing to grow, the dual international has been pursued by both the English and Nigerian national teams.  He received a call up to the Nigerian national side for two upcoming matches in African Nations Cup Qualifying against Egypt, but England reportedly tried to convince Iwobi to decline the offer at the last minute.
Iwobi represented the English national team at the youth level, making 11 combined appearances for the English U16, U17, and U18 teams.  Then in 2015 Iwobi made 2 appearances for the Nigerian senior national team in friendly matches, but this did not yet officially cap-tie him to the Nigerian team.
Unfortunately for England, Iwobi has decided to stick with his decision to play for the Nigerian national team by accepting his call up for the upcoming Nigerian matches.  He is expected to make his competitive debut for the Super Eagles on Friday against Egypt which will permanently tie him to Nigeria.