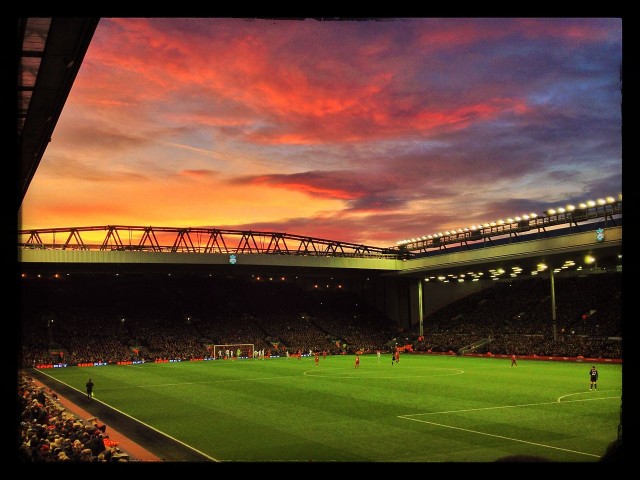 Despite drawing Borussia Dortmund in the next round of the Europa League and having played a match only a few days ago, Jurgen Klopp and Liverpool should be feeling pretty good about themselves. They are playing their best football of the season and the team is really starting to come together under Klopp. He might decide to rotate his squad a bit but too many players are on form to keep them on the bench.
Goalkeeper
Simon Mignolet is starting to look more reliable but that is almost definitely tied to the improvement in the form of the players in front of him. Southampton are an inconsistent scoring team but they have proved that they can put up the goals when they need to.
Right-Back
Jon Flanagan should be motivated to perform well given that the match will be his first since signing a new contract. He remains a solid defender but he will be tested by Dusan Tadic, one of the Saints' best creators.   
Center-Backs
Dejan Lovren and Mamadou Sakho played extremely well against Manchester United and they are really starting to look like a solid partnership in the back. They will have their hands full with Graziano Pelle but given their current form, the Reds' defenders should be able to keep him off the scoresheet.
Left-Back
It looks like Nathaniel Clyne will start on the left side if Alberto Moreno remains out with his hamstring injury.
Right Wing
Adam Lallana is proving his worth with his stellar play in recent matches and he is quickly becoming a key player for Klopp. His energy has always been there, it's just that he is finally putting up some counting stats to go along with it.
Midfield
Jordan Henderson and Emre Can are starting to really come together as a pair but they will need to focus more on handling Sadio Mane. Klopp could choose to start Lucas Leiva instead but Can is playing very well right now and Henderson's leadership is always valuable on the pitch.   
Left Wing
Philippe Coutinho basically ended the match against Manchester United with his brilliant run and goal. He almost got an assist as well if Sturridge didn't mess up his shot. He is a special player but he just doesn't put it all together consistently enough.
Attacking Midfield
Roberto Firmino has become Liverpool's main creator and his jump in form has coincided with the team's strong play in recent weeks. Firmino will need to work hard against the Southampton defensive midfielders but he should be able to create or score a few chances.
Forward
Divock Origi may start with Daniel Sturridge struggling for form. The Belgian has come off the bench a lot this year but it is time to give him a chance to show what he is really capable of against a good defense.
(4-4-1-1)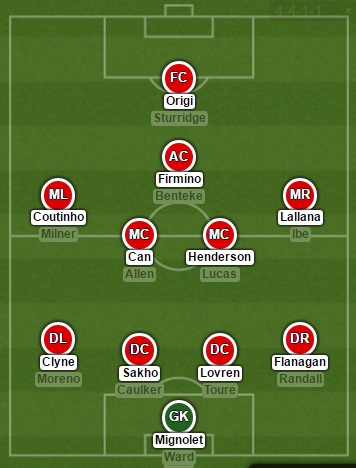 Via – Lineup Builder