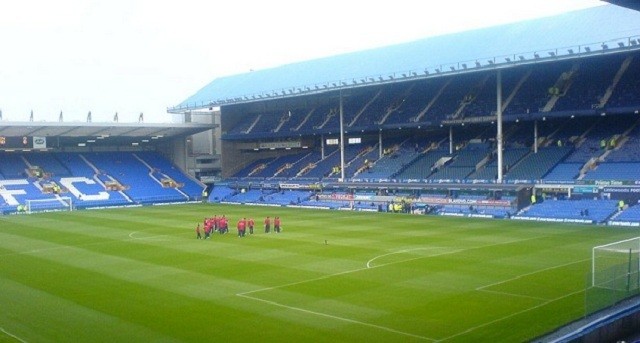 Arsenal take on Everton at Goodison Park this Saturday. The Gunners haven't registered a win in the Premier League since their 2-1 win against Leicester City on February 14th. Anything but the full three points will officially end Arsenal's unlikely title bid and put their Champions League place in danger.
Speaking to the press ahead of the match, Arsene Wenger acknowledged there is a real danger that Arsenal could drop out of the top four.
"It's very tight, but I believe that first of all the Premier League is far from over. But we have as well to look behind us, because things can change very quickly," he said. "We want of course to move forward, but I'm conscious that our position even where we are now is not secure."
Arsenal have a game in hand to Tottenham and Leicester but still sit six and eleven points behind first and second place. Meanwhile, Manchester City is only one point behind Arsenal, with West Ham trailing by three, and Manchester United behind by five. A loss could knock Arsenal down to fourth if City comes out with a win in the Manchester Derby this Sunday, or to fifth if West Ham beat Chelsea on Saturday.
Wenger revealed some team news in his press conference. Mathieu Flamini will miss out with a slight hamstring injury. Otherwise everyone else who was available on Wednesday will be considered this weekend.
Aaron Ramsey, Petr Cech, and Flamini should be available after the international break. However, Santi Cazorla and Jack Wilshere will both be short when the squad comes back together. Cazorla's injured knee is now healthy, but his Achilles is holding him back. Wilshere slow progression back to health continues and no return date has officially been set.
Here is Arsenal's strongest starting lineup against Everton.
 Goalkeeper – Ospina
David Ospina continues in goal as Cech misses another match through injury. Ospina pulled off a number of good saves against Barcelona, but couldn't do anything about the three that got past him.
Right Back – Bellerin
Hector Bellerin's first match at the Camp Nou was a forgettable one as he had trouble slowing Neymar down. That task is easier said than done, but an improvement will be needed in a close encounter this weekend.
Center Backs – Gabriel & Koscielny
Both Gabriel and Laurent Koscielny exhibited defensive aptitude for the majority of the match Wednesday, but a few moments of naïve defending was enough to undo Arsenal's back four on three occasions. The two will half to do better when they come against Romelu Lukaku, who has been a handful for defenders this season.
Koscielny showed what Arsenal had been missing at the back in his absence, meaning Per Mertesacker will find a place on the bench again.
Left Back – Monreal
Nacho Monreal was Arsenal's most competent defender on Wednesday. He did exceptionally well to contain Leo Messi when the Argentine drifted to that side of the pitch. A similar performance will be required against Everton when he comes up against the speedy Aaron Lennon.
Defensive Mid – Coquelin
Francis Coquelin was omitted from the starting lineup on Wednesday in an effort to rest him for this weekend. He ended up playing half the game as Flamini came off injured a minute before halftime.
Coquelin and Mohamed Elneny have formulated a good understanding on the pitch and their partnership is promising.
Central Mid – Elneny
Elneny opened his scoring account at Arsenal with a magnificent finish at the Camp Nou. His well-placed inside-foot shot from outside the box brushed the top right corner of the net. Overall, he played with energy and conviction.
Elneny's performances have been extremely encouraging the past few weeks and he looks to be a good purchase. His ability to take the ball from his own half and combine quickly with his teammates has made him a valuable asset. His defensive work can't be questioned, either. He's shown man-marking ability and uses his long legs well to disrupt dribbles, prevent passes from coming through, and nicking the ball off opponents.
Although Arsenal have been disappointing since January, Elneny has been a joy to watch recently.
Attacking Mid – Özil
Mesut Özil was up for it on Wednesday. He constantly looked to spark life into Arsenal's movement and his performance on Wednesday was an improvement compared to the last time Arsenal played Barcelona. The bad body language we've seen lately made a few appearances, but less so then in recent games.
After the match, Özil stated that Arsenal must keep fighting to end their season on a high note. If the German can use that fighting spirit and play with positive energy, Arsenal have a chance at saving their season. Those chances are admittedly slim and Arsenal are walking fine line.
Wide Right – Alexis
Alexis started on the right for the first time in a long time and looked more effective compared to recent matches. The Chilean is very right footed and playing on the right forced him to use the byline more often. Playing on the left forces him inside often, which makes his movement predictable. Playing on the right allowed Alexis to grasp some of that unpredictability that made him so dangerous last season.
While Alexis's performance was not great on Wednesday, it was an improvement and Wenger may try his talisman on the right again to see if his form can continue to improve.
Wide Left – Iwobi
Wenger heaped praise on Alex Iwobi ahead of this weekend's game, labeling him as a "big talent." He was given a surprise start on Wednesday night and the teenage Nigerian international took his opportunity well. Iwobi's direct play was effective and he was unafraid to try everything.
He's primarily played in the number 10 role this season, but his affective performance on the left gives Wenger a new option out wide. Based on form, Iwobi deserves a second consecutive start.
Striker – Welbeck
Danny Welbeck gets the start ahead of Olivier Giroud. Welbeck's pace and movement make Arsenal a more dangerous team. He is able to present himself as an option in a number of ways that Giroud can't. Welbeck is especially useful as an outlet because his pace allows him to chase after balls and stretch the defense, allowing more room for Özil and Elneny to exploit.
(4-2-3-1)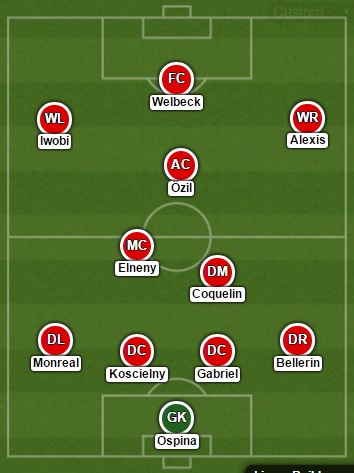 Via – Lineup Builder