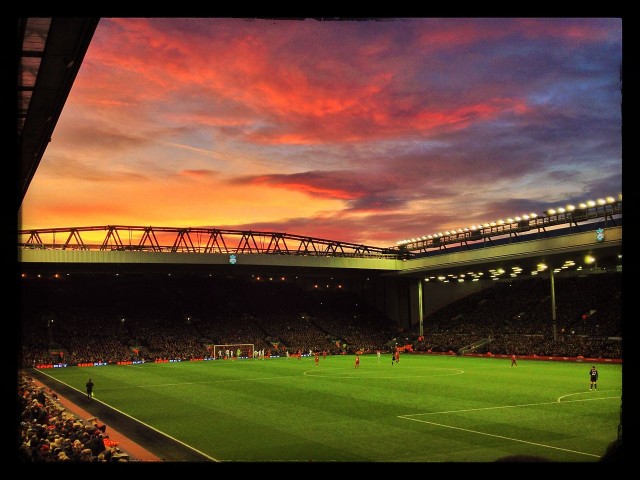 After their 2-0 win over Manchester United at Anfield, Jurgen Klopp and Liverpool got a well-deserved break. They travel to Old Trafford on Thursday for the second leg of the tie as the favorites to progress but you never know what can happen in a match with as much emotion as this one. That is why Klopp will likely field a very strong lineup even if a match with Southampton coming up only a few days away.
Goalkeeper
Simon Mignolet should expect a much more difficult match than the one last week where he barely had anything to do. United will be gunning for three goals right from the beginning. This will be one of the tougher matches for the under fire 'keeper so a good performance will help alleviate the criticism.
Right-Back
Nathaniel Clyne earned the penalty that Sturridge scored and remained a constant outlet throughout the entire match. His consistency is wonderful to have since Klopp really doesn't need to worry about the winger on Clyne's flank.
Center-Backs
Dejan Lovren and Mamadou Sakho are starting to look like a strong pairing in the middle and they are finally giving Liverpool some defensive stability. While they don't possess a lot of speed, the two defenders read the game well and use their positioning to deal with players with more pace.
Left-Back
Alberto Moreno dealt with Marcus Rashford well enough but he remains a player who is prone to defensive mistakes. He will likely be pushed back for much of the match so he will need to avoid making rash challenges.
Right Wing
James Milner missed the last match with a virus but he could return to the lineup since his energy will be really help the Reds disrupt the United attack.
Midfield
Instead of creating chances, Jordan Henderson and Emre Can should focus on disrupting the United attack. Their energy and physicality will likely lead to a few confrontations in the middle of the pitch, it's up to them to keep their heads cool, especially if Marouane Fellaini plays.
Left Wing
Adam Lallana finally looks comfortable on the pitch and he is currently on his best run of form as a Liverpool player. He is putting together a few great performances and is making a great case for him to remain a key player for Klopp for the rest of the year and beyond.
Attacking Midfield
Philippe Coutinho would have scored if it weren't for David de Gea's brilliance but he should have a few opportunities to grab a goal playing further up the pitch. He is not the only creative player that the squad has anymore and that can only help him play better.
Forward
Roberto Firmino is playing very well and is definitely Liverpool's most in-form player right now. He is playing with a lot more freedom and that has given the Reds' attack a whole new dimension. His movement and dribbling skills should allow him to get past the Devils' defense a few times.
(4-4-1-1)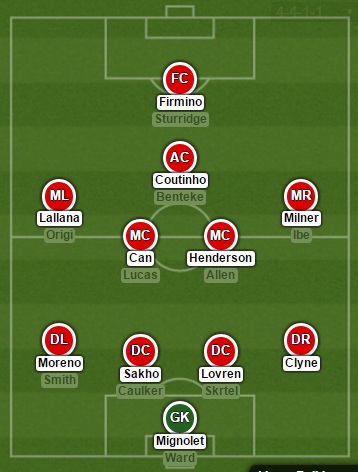 Via – Lineup Builder