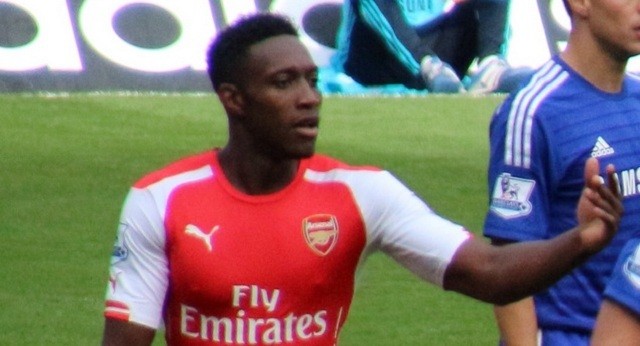 Arsenal take on Barcelona at the Camp Nou in their 2nd Leg Champions League Round of 16 matchup.
The Gunners face an uphill battle after losing the first leg at home 2-0. By stashing two away goals, Barcelona are in pole position to progress and further spiral Arsenal's season.
Arsene Wenger will have some lineup choices to make and will decide how much he is willing to sacrifice on Wednesday in term of his starting eleven. The North London club plays Everton in the early match on Saturday. In the grand scheme of things that match bears more significance on Arsenal's season over Wednesday night's European jaunt. It's not in the manager's nature to devalue a Champions League match, but at this point, the Premier League is a more realistic target, regardless of how far behind Arsenal are from the top.
Hector Bellerin, Nacho Monreal, and Danny Welbeck should get the start. Laurent Koscielny could return from injury, while Mohamed Elneny is set to make his first Champions League appearance for Arsenal.
Here is Arsenal's most probable lineup against Barcelona on Wednesday.
Goalkeeper – Ospina
David Ospina continues in goal in the place of the injured Petr Cech. The Czech international should be available for selection again after the international break, which starts next weeks.
Right Back – Bellerin
Bellerin starts at right back for the first time in a week. Calum Chambers had taken over duties in the FA Cup the past two matches. Bellerin's pace and delivery will be valuable in his first match at the Camp Nou since moving to Arsenal from Barcelona as a teenager.
Center Backs – Koscielny & Gabriel
Koscielny should be available for selection on Wednesday after missing the last three matches due to a calf injury. Arsenal have suffered at the back in his absence with Per Mertesacker and Gabriel putting in a mixed bag of performances.
Gabriel will lineup with Koscielny, although the Brazilian's form must improve.
Left Back – Monreal
Monreal takes back his place in the starting eleven after featuring on the bench the past three matches. Monreal's experience and consistency in the back four will be valuable on Wednesday.
Defensive Mid – Coquelin
Francis Coquelin will be responsible for marshaling Lionel Messi. He fulfilled this role well at the Emirates before fatigue set in at the end of the match. Barcelona dutifully took advantage.
There is a concern that Coquelin could run himself into the ground Wednesday, placing his status for Saturday's match in doubt.
Central Mid – Elneny
Elneny was one of the few positives during Arsenal's 2-0 loss to Watford this past weekend. He provided a link between defense and midfield by falling deep to collect the ball, and combining well with his attacking teammates.
The fact that Arsenal have nothing to lose on Wednesday could play out well for Elneny in terms of how he approaches the match and how he executes on the pitch.
Attacking Mid – Özil
Mesut Özil cut out a frustrated figure on Wednesday. Like Elneny, he was one of Arsenal's bright spots by consistently looking to get Arsenal moving in the final third of the pitch. Özil's back heel pass to Welbeck released the Englishman in the box before he finished low into the opposite corner.
If Özil's teammates showed better conviction in front of goal, his assist numbers would be astronomical and Arsenal would find themselves in good position in the FA Cup and Premier League.
The last time Barcelona and Arsenal played, Özil was a peripheral figure as the Gunners failed to maintain possession and their opposition played the German out of the game. It is imperative he places his stamp on this match.
Wide Right – Campbell
Joel Campbell gets a deserved start at the Camp Nou. The Costa Rican international has been Arsenal's most creative player the past few matches and has deservedly been praised.
While he lacks pace to be a true threat on the wing and via the counter, Campbell is excellent in build-up play and has fostered a good understanding with Özil. His willingness to defend strengthens his case to be in the starting lineup.
Wide Left – Alexis
Dropping Alexis is hard to justify, however, his form has almost become a hindrance to Arsenal. His quality is keeping him in the lineup for now. At the same time, it's hard to make an argument for any of Alexis's possible replacements getting minutes.
Striker – Welbeck
Welbeck has provided a small positive light to the squad since returning from injury. His goal scoring return since early February is encouraging compared to his record in front of goal last season.
Welbeck's pace, movement, and aerial ability make him more threatening than Olivier Giroud. Welbeck should be Wenger's preferred striker for the rest of the season.
(4-2-3-1)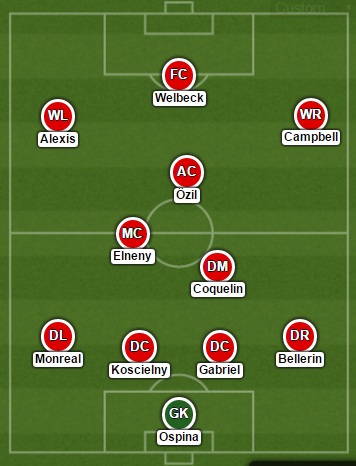 Via – Lineup Builder