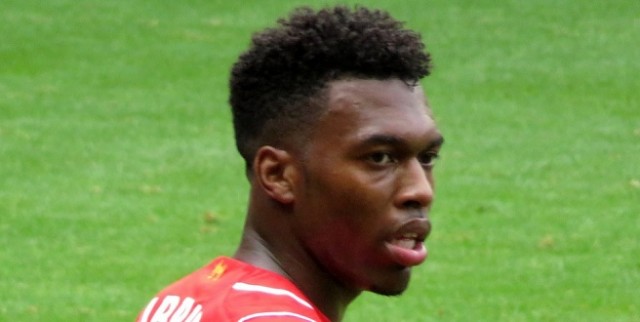 Jurgen Klopp and Liverpool will be looking to make it three straight victories in a row when they host Manchester United in the Europa League Round of 16 on Thursday. This is obviously a huge match given the rivalry that the two clubs share but the fact that the competition may be the only way in the Champions League for next year gives the tie a little more intensity.
Goalkeeper
Simon Mignolet has to make sure that he is not beaten by the first shot United have on goal. While it hasn't always been his fault, United have scored on all four shots they have had on target this season against the Reds. That trend cannot continue if the club wants to progress in the competition.
Right-Back
With Jon Flanagan ineligible to play in the Europa League, Nathaniel Clyne is almost guaranteed to start on the right side of the defense. It doesn't really matter who starts opposite him since he has shut down most, if not all challengers.
Center-Backs
Dejan Lovren and Mamadou Sakho could be facing a player they have never seen before if Marcus Rashford starts. As long as they don't underestimate him, the two defenders are more than capable of dealing with the teenage forward. If Klopp wants to put more experience in the lineup, he could start Kolo Toure over Lovren.
Left-Back
Alberto Moreno remains a frustrating player to watch but his dynamism is fantastic when he has time and space to burst up the pitch. He can match most United attackers in terms of speed, the Spaniard just has to make sure that he isn't caught out of position by their movement.
Right Midfield
James Milner likely feels that he has to make up for his red card on Sunday. Even if the team arguably played better without the vice-captain, he remains a vital player both on and off the pitch.
Central Midfield
Jordan Henderson hasn't had a fantastic performance in a while. Having one in a match as big as this one would only help him cement himself as a club legend. Emre Can has hit top form in recent weeks and it came at the perfect time for both himself and the club. His physicality and energy should bother a rather slight United midfield.
Left Midfield
Philippe Coutinho hasn't played a lot of minutes over the past two matches so he is more than well-rested to put in a good performance against United. The little magician's skill on the ball and overall creativity will make him a target for some hard challenges, he has to remained focused on the match and not on when the next foul is going to come.
Attacking Midfield
Roberto Firmino has been Liverpool's best attacking player this season and he finally got a reward when he was added to the Brazil squad to replace Kaka. He and Coutinho will have to work together to find the holes in a United defense that has the second-best defensive record in the Premier League.  
Forward
Daniel Sturridge was also rested in preparation for this match and it is the first time in a long time that he will play against the club's most hated rival. His speed and movement at the top of Liverpool's attack should cause trouble for the Red Devils.
(4-4-1-1)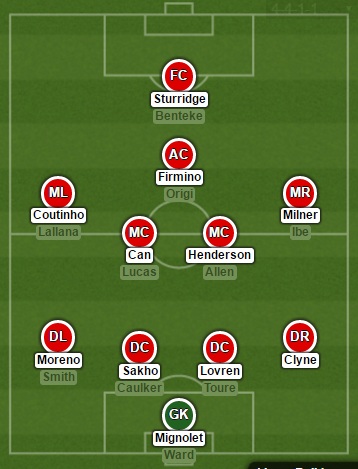 Via – Lineup Builder