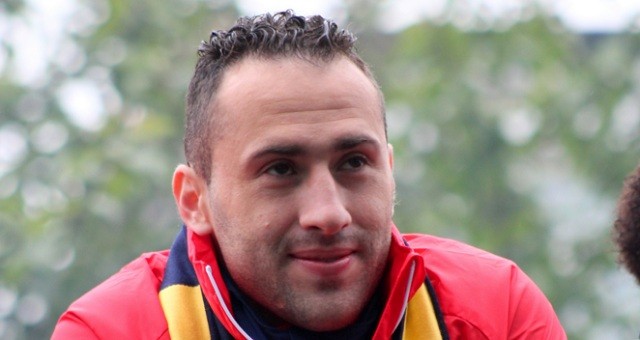 As the North London Derby approaches, Arsenal and Tottenham find their selves in a match that could make or break either team's season.
Both are coming off losses, although Arsenal's loss against Swansea City on Wednesday is significantly more damaging considering it was their third loss in as many games. Tottenham couldn't come from back Upton Park with any points, although West Ham have proven to be a difficult team all year and a 1-0 loss to them is hardly something to panic over.
An Arsenal win would bring them level with Tottenham, but a loss would put them six points back from their hated rival. If Wednesday's match was a must win, Saturday's match should be treated as if it were the Champions League final.
Failing to win at White Hart Lane would likely signal the end of Arsenal's title hopes. Mathematically speaking they are very much in it, however, the body language of many of the players is discouraging and there is a clear lack of confidence throughout the squad.
Alexis said as much after Arsenal's loss to Swansea at the Emirates Stadium.
"There are great players here, I train with them daily and they have got the mentality and the desire to win but sometimes, we lack the hunger, the mentality that we are winning 1-0 when we go out on to the pitch. Sometimes, we lack this hunger to believe that we can be champions… to go out on to the pitch feeling that we are already winning 1-0."
That is a telling statement about what is missing in this Arsenal squad. Things won't be easier for them on Saturday as Petr Cech has been ruled out for the next three to four weeks and Laurent Koscielny will miss his second consecutive match with a calf injury.
Here is Arsenal's most probable starting lineup against Tottenham.
 Goalkeeper – Ospina
David Ospina comes in for the injured Cech. Ospina has been a peripheral figure all season since his horrendous showing against Olympiakos. The next three or four weeks is a huge opportunity for the Columbian international to prove his credentials.
Right Back – Bellerin
Hector Bellerin, along with the rest of the back four, was poor on Wednesday. He will come up against Christian Eriksen on the right, although will most likely be dealing with Danny Rose more often because of Eriksen's tendency to drift in the middle.
Center Backs – Mertesacker & Gabriel
Per Mertesacker and Gabriel were poor on Wednesday. It's possible that Koscielny makes them better when playing with either of them, however, both players are quality Premier League center backs and more should be expected of them.
They will have to deal with the threat of Harry Kane. Gabriel will especially have to stay on his toes, as he seems to be suffering from moments of lost concentration.
Left Back – Monreal
Nacho Monreal was Arsenal's best defender on Wednesday. He did his job on the left, but had trouble making on impact farther up the pitch.
Last season, Monreal and Alexis established a good understanding that was sustained by Santi Cazorla. With Cazorla out injured, Alexis and Monreal are struggling to play together, and their partnership isn't aided by Alexis poor form.
Defensive Mid – Coquelin
Francis Coquelin, like Monreal, did what was requested of him on Wednesday, but nothing more. He seemed to venture up the pitch a little bit more than usual, leaving his back four a little exposed at times.
Coquelin will deal with the threat of Dele Ali.
Central Mid – Ramsey
Like on Sunday against Manchester United, Aaron Ramsey had trouble pulling anything off on Wednesday. He worked as hard as ever, tried to get short combination passes going, and defended as best as a he could. The problem is, Arsenal needs a technical midfielder, like Cazorla or Jack Wilshere, to play next to Coquelin.
Ramsey's inability to bring the ball up the pitch from deep hurts his partnership with Coquelin, because Coquelin is not going to start an attack. Ramsey is an excellent midfielder, but the he needs to play next to a ball playing defensive midfielder, like Mikel Arteta in his prime.
Attacking Mid – Özil
Mesut Özil worked hard on Wednesday and was visibly frustrated with the efforts of some of his teammates. If he can turn that frustration into constructive criticism of his teammates or extra drive on the pitch, he could turn into a real leader. Right now, Arsenal needs one of their best players to pick them up and Özil could just be that person.
Wide Right – Campbell
Joel Campbell was outstanding on Wednesday. He created all of Arsenal's dangerous movements, looked to make quick short passes, made penetrating dribbles, and scored with a very nice finish.
Campbell was taken off the pitch to a chorus of boos directed at Arsene Wenger. The crowd was clearly unpleased with the manager's decision to remove the Costa Rican international instead of Alexis, who had an abysmal evening. After the match, Wenger said he was worried about Campbell's fitness.
Arsenal should look to Campbell again on Saturday.
Wide Left – Alexis
Alexis was horrific on Wednesday. Despite that, he was unlucky not to score twice. He hit the post on a placed shot in the first half and then the cross bar on a deflected free kick.
He looks like a player who needs a prolonged rest. Remember, the Chilean international has not had a summer off for years now thanks to participation in the World Cup and Copa America. It's unrealistic to think he can sustain the form he showed last year while playing an insurmountable amount of matches every season.
Regardless, Wenger will choose him again, in hopes that Alexis plays himself out of his poor form.
Striker – Giroud
Olivier Giroud struggled to make an impact on Wednesday. He hit the cross bar at the end of the first half off of a nice headed layoff from Mertesacker. The service his teammates provided him with was poor and he had little chance of controlling most of the passes coming his way.
Giroud has done well against Tottenham in the past. He is in the midst of a ten-match scoring drought, the longest of his Arsenal career.
(4-2-3-1)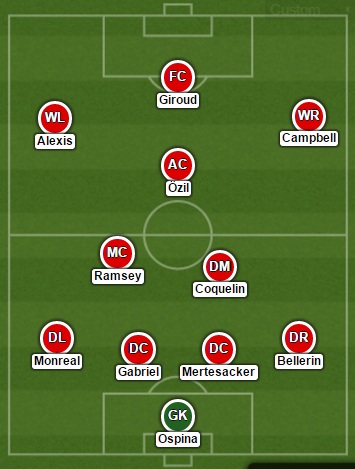 Via – Lineup Builder