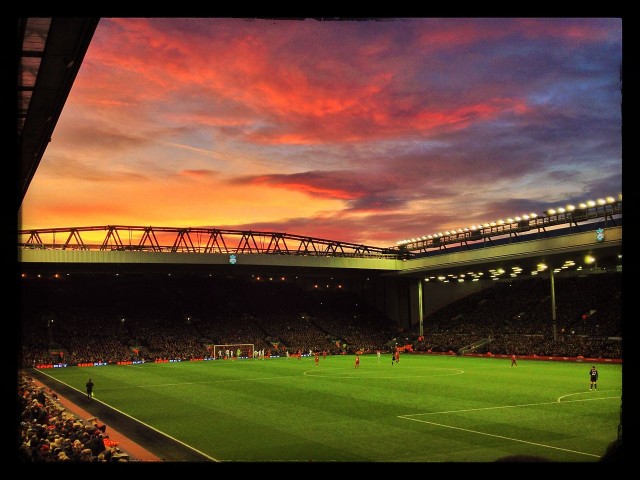 After losing the League Cup final by way of three missed penalties, Jurgen Klopp and Liverpool meet Manchester City again in the Premier League. Despite the loss, the Reds should be fairly confident about their chances of getting three points in Anfield. They will, however, be without a few key players since Lucas Leiva, Mamadou Sakho and Daniel Sturridge aren't healthy enough to play again after only a few days of rest.
Goalkeeper
For every great save that Simon Mignolet has, he usually has a mistake that leads to a goal for the opponents. He just isn't good enough to be the goalkeeper for a team trying to compete at the highest level.
On the bright side, Klopp seems to have come to his senses since reports have emerged that he is looking for a replacement for the Belgian. Those are still just rumors but every Liverpool fan would welcome a new 'keeper with open arms, provided he actually looks better than Mignolet.
Right-Back
As expected, Nathaniel Clyne kept Raheem Sterling under wraps and he should win the battle once again on Wednesday.
Center-Backs
With Lucas Leiva out with a muscle injury and Mamadou Sakho unlikely to recover from the possible concussion that forced him to come off the pitch, Kolo Toure and Dejan Lovren will probably start in the heart of the defense.
The two haven't been paired together that often and this match will be Lovren's first in a few weeks, fans will be hoping that they work together well enough to keep Sergio Aguero and company from scoring.
Left-Back
Alberto Moreno remains a frustrating defender to watch and he gets out of position way too often. That compromises everyone else in the back line since they have to cover for him. The Spaniard has to avoid making such costly errors since he won't always be as lucky as he was on Sunday when he escaped giving City a penalty after his ill-timed trip of Aguero inside the penalty box.
Right Wing
James Milner's work rate is always great to see but he just doesn't offer the creativity of a true winger. Even if he produces the best crosses among Liverpool players, he just doesn't seem to be a threat to score or even shoot at goal.
Center Midfield
Jordan Henderson and Emre Can matched Yaya Toure and Fernandinho in the middle of the pitch and they should do much of the same when they meet again. The two players should take advantage of the fact that Toure, if he starts, really struggles to last a full match nowadays, they need to force him to chase after them.
Left Wing
Philippe Coutinho continues to score against City and hopefully he gets another one in this match. He should be motivated to perform well again especially because he needs to make up for his terrible penalty.
Attacking Midfield
Roberto Firmino should have had a bigger impact on Sunday but he will likely have another chance to show how good he really is when the two sides meet again. He returned to how he played earlier in the year with his inability to remain onside while also failing to connect with the rest of the Reds' attack.
Striker
With Daniel Sturridge unlikely to start after playing the entirety of the final, Divock Origi will likely come in to replace him. The Belgian looks much more settled in his new club after a few months of adjustment and he should be able to trouble the City defense a fair amount.
(4-4-1-1)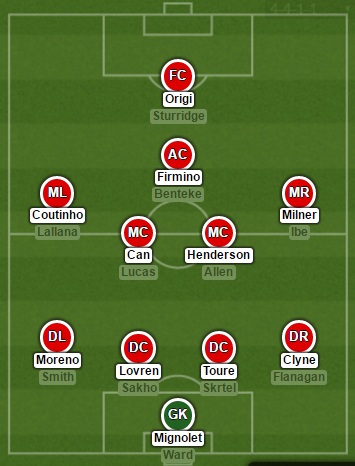 Via – Lineup Builder