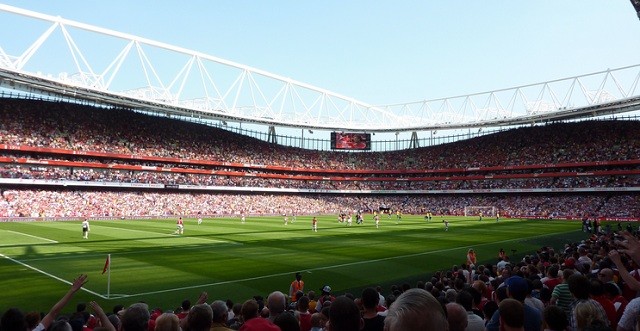 Arsenal face Swansea City at the Emirates on Wednesday in a must win game for the North London club.
Arsenal's frustrating performance and subsequent loss to Manchester United at Old Trafford last weekend put a serious dent in their title aspirations. The Gunners face Tottenham on Saturday, which serves as an opportunity to get themselves back in the reckoning. Anything but a win against Swansea could see Arsenal in too big a hole before the North London Derby.
Arsene Wenger spoke to the press ahead of Wednesday's match and called on his squad to focus on the task at hand.
"What we want to do is defy all the odds that are against us at the moment. The best way to do it is to fight together for that. We have come out of a bad week so we want to have a good week now.
"It's as simple as that and that's why you love competition. A bad week is not permanent, it's what you make of it and how you respond. That's the beauty of sport. Things change quickly one way or the other. That's beautiful as well."
Wenger indicated he would make a few changes from the squad that appeared on Sunday. Danny Welbeck is unlikely to start as the manager is wary of playing the striker too much after a ten month layoff. Considering the poor showing from a number of players on Sunday, it would not be surprising to see Wenger ring the changes.
Here is Arsenal's most probable starting lineup against Swansea City on Wednesday.
Goalkeeper – Cech
Petr Cech could not be faulted for any of three goals he conceded on Sunday. He made a number of decent saves on the day, and overall did what he needed to do when called upon.
Cech will be wary of the threat Bafétimbi Gomis who has punished Arsenal in the past.
Right Back – Calum Chambers
Calum Chambers will replace Hector Bellerin in the starting eleven, allowing the young Spaniard a rest. Bellerin was a peripheral figure on Sunday. He had trouble with the pace and trickery of Memphis Depay, and couldn't seem to pull off a pass.
Chambers has featured irregularly this season, but when called upon, has done a job.
Center Backs – Mertesacker & Koscielny
Per Mertesacker comes into the squad for Gabriel who was horrendous on Sunday. The Brazilian's positioning was off all day, and he had trouble containing impressive 18-year old Marcus Rashford. Gabriel is coming off a hamstring injury and maybe he was called into the squad too soon.
Before Sunday, it seemed as if Gabriel had usurped Mertesacker in the starting eleven for good. However, on Tuesday, Wenger seemed to criticize Gabriel's English skills and expressed frustration that the Brazilian's language skills are lacking after a year at the club. Communication is key in defense and it may be hurting Gabriel's chances in the coming weeks.
Laurent Koscielny will partner Mertesacker in the center of defense.
Left Back – Monreal
Nacho Monreal was Arsenal's best defender on Sunday. He is the model of consistency and bar fatigue, should get the start ahead of Kieran Gibbs.
Defensive Mid – Coquelin
Francis Coquelin struggled on Sunday. He was at fault for dropping too deep at times and couldn't seem to close the gaps between midfield and attack quickly enough. There was a constant gaping hole in the middle of the pitch and the Frenchman had trouble containing that space.
Coquelin's partnership with Aaron Ramsey failed this weekend and it remains to be seen whether the two can improve together on Wednesday.
Center Mid – Ramsey
Ramsey has played a lot of games the past two months and it showed on Sunday. Nothing came off for the Welshman against Man U and some would claim he was lucky to stay on the pitch after pushing Ander Herrera.
An improvement is required on Wednesday.
Attacking Mid – Özil
Mesut Özil bagged a goal and created another on Sunday but was still a peripheral figure. The space left between him and Ramsey/Coquelin was a big reason why he couldn't make his presence felt.
Arsenal misses a connection that links Özil with the rest of his midfield teammates. Santi Cazorla had provided that link prior to the Spaniards injury, and in the meantime Özil and Ramsey need to figure out how to reintroduce fluidity in the midfield.
The two had made it work during December by having Özil drop deeper to collect the ball and start Arsenal's movement from there. We haven't seen that happen the past month, though.
Wide Right – Campbell
Joel Campbell hasn't featured as much the past month thanks to the returns of Welbeck and Alexis. His exclusion has been a little unfair considering the positive performances he gave when called upon.
With Alex Oxlade-Chamberlain out for six to eight weeks, Theo Walcott's invisibility act on Sunday, and Welbeck's fitness concerns, Campbell should be recalled on Wednesday.
The Costa Rican's defensive prowess and creative abilities will be on full display on Wednesday. He may not provide a serious goal scoring threat, but he has a knack for creating chances for his teammates at least once or twice a match, regardless of how he is performing.
Wide Left – Alexis
Although, it may be best to sit Alexis out for this one based on current form, Wenger will start him in an attempt to allow the Chilean to play himself out of his poor form.
Right now, Alexis is forcing everything. He is broadcasting his every move by consistently cutting back onto his right foot. He is making it easy for fullbacks to mark him and often loses possession because of his banality.
The one time he chose to burst down the line rather than cut inside on Sunday, he created space for himself and forced Guillermo Valero to make a cynical foul that resulted in a yellow card. A simple video session would show Alexis exactly what is holding him back.
Striker – Giroud
Wenger will bring Olivier Giroud back into the starting lineup after sitting him out on Sunday. The manager went for a speedy front three at Old Trafford, meaning Giroud found a place for himself on the bench. Although the idea can't be questioned, in practically Wenger's decision did not pay off.
Giroud has not scored in eight successive matches but he still has managed to make positive contributions.
In seasons past, Giroud has performed well after being granted a rest. He is also a player who tends to score in bunches. Hopefully the two coincide with each other during a period where Arsenal desperately needs goals to get their faltering title challenge back on track.
(4-2-3-1)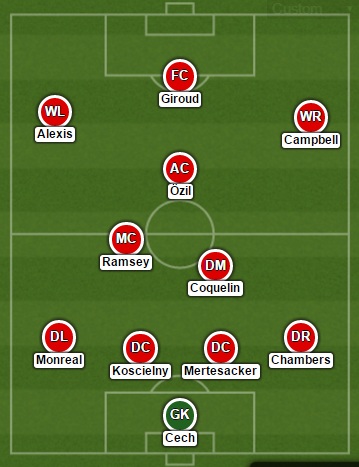 Via – Lineup Builder