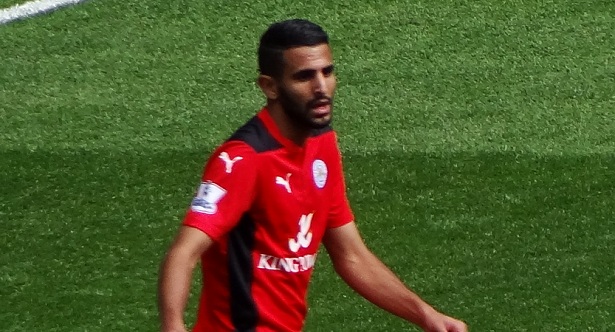 Arsenal plan on raiding Leicester City for winger Riyad Mahrez this summer, per reports by ESPN FC.
Sources claim if Mahrez seeks to leave Leicester this coming summer, the North London club will make a move. For now though, Arsenal plan on watching with keen intent from a far.
Mahrez signed for Leicester from Le Havre in 2014. He recently signed a new four-year extension, despite rumored interest from Barcelona, Manchester United, and Real Madrid.
Leicester City manager Claudio Ranieri admitted he would not stand in Mahrez's way if the Algerian seeks to move this summer.
"We want to keep all our players. We believe in them. But if a player comes to me and says, 'Boss, I want to go there because it's my ambition to go there,' I'll say, 'go and enjoy and have good luck.'
"Because I only want players who are happy to stay here, because sooner or later we grew up a lot. Of course, not like Barcelona or Real Madrid, but Leicester will be a very good team."
Ranieri reserved hope that Leicester's likely participation in the Champions League next season will allow him to keep his star players.
"Of course it makes it easier. For this reason I said (the next) five matches are very important, it's our key."
If Arsenal were to sign Mahrez this summer, he would immediately slot into the starting eleven at right wing. So far this season, Theo Walcott, Aaron Ramsey, Alex Oxlade-Chamberlain, Joel Campbell, and recently Danny Welbeck have deputized on the right.
Ramsey and Campbell have been consistent, but Campbell is not good enough to start every match and Ramsey is best used through the middle of the pitch. Walcott and Oxlade-Chamberlain have given a mixed bag of performances, while Welbeck is best utilized on the left or as a striker.
The lack of goals and assists from the right is a weak link in this Arsenal squad. Arsenal has come under considerable criticism this week for their lack of attacking verve and intent. Although, lack of production from the right is not the only reason Arsenal's attack is faltering, it certainly is not helping.
Mahrez has 14 goals and 10 assists, second to Mesut Özil, in the league this season. If he were to make the move to North London while sustaining his blistering form, he would prove to be a key addition to the squad.