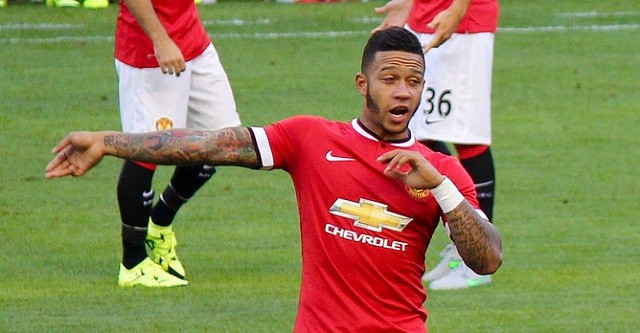 Memphis Depay inspired the entire Manchester United squad into a 5-1 win against Midtjylland on Thursday. While Memphis had only one goal, his fancy footwork was reminiscent of another Manchester United winger who wore the storied #7.
Memphis spoke with the Manchester Evening News last night. "We enjoyed ourselves on the pitch and you could see that," said Memphis. He may call his game on Thursday enjoyment. I would label that attitude.
Memphis turned over the ball a few times, but his fancy footwork, more times than not, created incredible chances. More importantly, he resurrected the Old Trafford spirit.
The greatest moments of cohesion were actually those of individuality. Memphis made a pass so tricky that it can barely be explained.  A step-over to a right-footed behind-the-left pass to Juan Mata inspired a moment where his teammates realized that they also had the opportunity to showcase their talents.
It started with Memphis making a fool of the Midtjylland wing-back. Then it was Jesse Lingard who tried trying new things, then Rashford, then Varela, and even Juan Mata tried moves that are we have not seen under Van Gaal. It was magical to watch kids play the way they want.
United faced a squad that they would historically beat 5-1. While it was only the final 50 minutes that exhibited the boisterous display, it was the most exciting 50 minutes this season.
Arsenal provide a much more difficult challenge for United. The Gunners are in the heart of a Premier League title race and are also fresh off a strong, but disappointing Champions League outing.
Memphis has struggled against stronger opponents this season as a majority of his goals have came in European play. This Sunday brings an opportunity for the young Dutchman to prove he can play in big moments.
Louis Van Gaal spoke of Arsenal and how he believes Manchester United can win. "Arsenal are one of the best teams in the Premier League but Arsenal are not always consistent," said Van Gaal. "The big challenge for us is to put in another big performance so soon after the last one."
Manchester United will likely have Chris Smalling, Anthony Martial, and David De Gea back for Sunday's momentous clash.