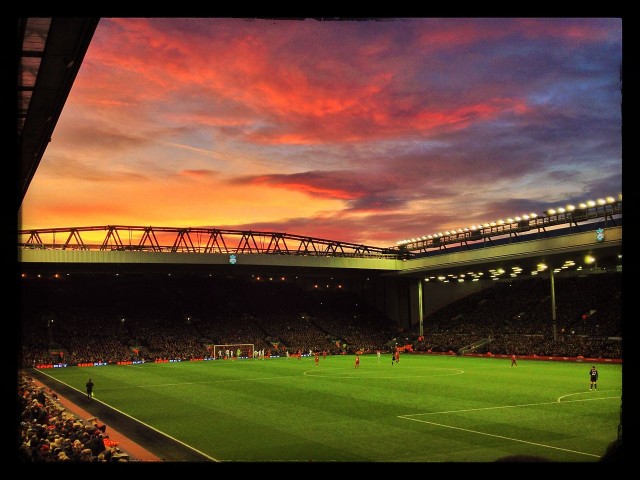 There is no doubt that Jurgen Klopp and Liverpool enjoyed the week-long break after playing a lot of matches over the past few months. However, the schedule remains congested with four matches over the next three weeks.
The first of the three is the second-leg of the Europa League tie with Augsburg. The match in Germany ended 0-0 so it is imperative that Liverpool get a good result since they are playing in Anfield. Liverpool are clearly the better squad, they just need to get rid of the inconsistency that has been ever-present this year.
Goalkeeper
This is the perfect chance for Klopp to give Danny Ward his first start in a Liverpool jersey this season. The Welshman is clearly a very talented 'keeper, hopefully Klopp will give him an opportunity to show it.
Right-Back
Nathaniel Clyne seems to have unlimited stamina so having him start twice this week makes sense. If the Reds dominate possession, he will be able to live in the opponent's half for much of the match.
Center-Backs
Dejan Lovren and Mamadou Sakho should keep the Augsburg attack at bay, they just need to avoid committing foolish fouls since those tend to end badly for the Reds. Steven Caulker and Kolo Toure could find themselves on the team sheet on Thursday but Toure might be saved for the weekend given his recent form.
Left-Back
Brad Smith has been one of the better youngsters to feature for the first team and he may have another chance to show his ability against a decent opponent. The Australian is already a great attacking left-back but he also needs to continue to work on his defense.
Defensive Midfield
Lucas Leiva and Emre Can will provide some steel in the middle of the pitch. Having Lucas patrolling in front of the defense should keep the weak Augsburg attack from stringing passes together while Can will be able to burst forward without having to worry about getting back defensively.
Attacking Midfield
James Milner has gotten better as the players around him have improved as well. He is no longer expected to venture out of his comfort zone as a creator and he can focus on being a utility player all over the pitch. As great as it would be to feature a player like Joao Teixeira instead, Klopp should have either Roberto Firmino or Philippe Coutinho in the lineup to inject some creativity in the attack.
Both could start but having one instead of none be completely rested for the weekend should help the team win both matches. Jordon Ibe is still a young player but he at least needs to show a little improvement this season. He is essentially the same player as he was when he debuted, his ability is obvious but there is almost never anything that he does on the pitch that benefits the team.
Forward
Divock Origi looks fully healthy after months on the sidelines. He seems to have adjusted to the demands of playing for a club like Liverpool and as long as he gets a few opportunities at the goal, he should be able to break the deadlock. Daniel Sturridge could start if Klopp wants to increase the chances of progressing but that may be too big a risk if he also starts against Manchester City.
(4-2-3-1)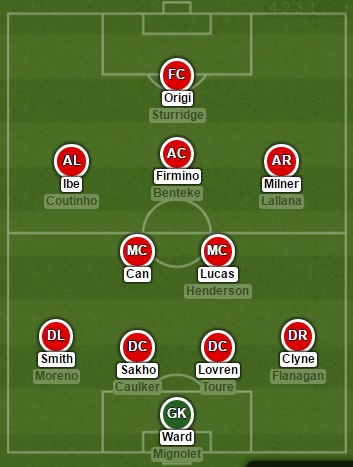 Via – Lineup Builder